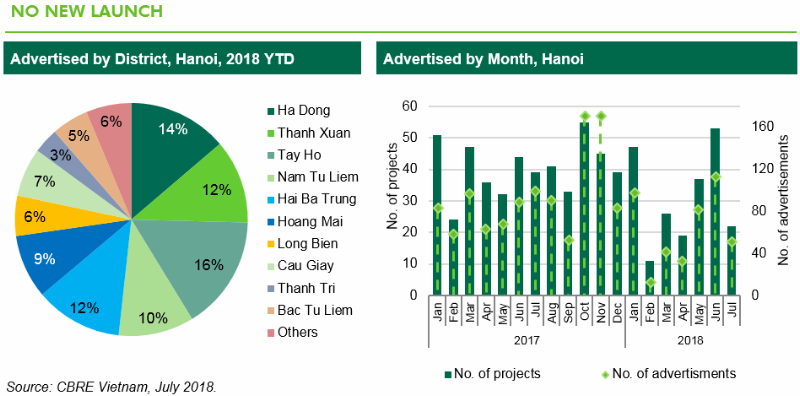 Advertisement:

Green Pearl (Hai Ba Trung District)

Total units: 504 units
Scale: 10,334 sm land area
Unit size: 71.48 – 139.73 sm (2 – 3 bedrooms)
Price*: from VND 32 million psm

Manhattan Tower (Cau Giay District)
Total units: 327 units
Scale: 3,948.05 sm land area
Unit size: 62.1 – 482.2 sm (2 – 6 bedrooms)
Price*: from VND 30 – 33 million psm
Total units: 1,099 units
Scale: 28.000 sm land area
Unit size: 67 – 128 sm (2 – 4 bedrooms)
Price*: from VND 37 – 42 million psm
Hinode City (Hai Ba Trung District)
* Prices included VAT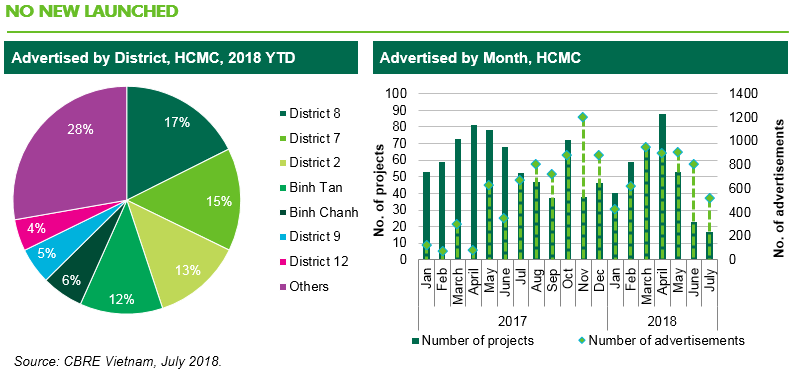 Advertisement:

Sky89 (District 7)

Total units: 430 units
Scale: 6,3 ha land area
Unit size: 55 – 114 sm (1 – 3 bedrooms)
Price*: from VND 45 million psm

Metropole Thu Thiem (District 2)
Total units: 456 units
Scale: 79,224 sm land area
Unit size: 60 – 106 sm (1 – 3 bedrooms)
Price*: from VND 88 million psm
Total units: 960 units
Scale: 16,940 sm land area
Unit size: 51 – 68 sm (1 – 3 bedrooms)
Price*: from 22 VND million psm
Heaven Riverview (District 8)
* Prices included VAT

H1 foreign investments in property exceed 2017

FDI capital pledged for Vietnam's property market in the year's first half witnessed a big surge and was higher than total pledged capital of the entire year of 2017. Data of the Ministry of Planning and Investment's Foreign Investment Agency shows that the property sector attracted the second highest registered FDI capital in January-June with over US$5.5 billion, or over 27% of total registered capital in the period. Meanwhile, last year recorded only US$3.05 billion pledged for the sector, equivalent to some 8.5%. Among large-scale property investments is the smart town project worth more than US$4 billion in Hanoi's outlying district of Dong Anh. Developed by a Japanese investor, it is the most capital-intensive FDI project in the six-month period.
9 golden land plots in Thu Thiem will be up for auction
Zing

The auction of 9 land plots in subdivision 1, Thu Thiem New Urban Area (District 2) has been deployed to the relevant units and its procedures will be completed in this third quarter. This area is planned to be a multi functional trade center. The land is a 78,000 sm clean area, but has no technical infrastructure and connecting roads. Among the 9 plots, 6 are planned for multi functional residential areas and the other 3 will be for multi functional commercial areas with the total investment of VND27,000 billion.
VinaCapital becomes major shareholder of construction firm Coteccons

HCMC-based asset management firm VinaCapital has become a major shareholder of Vietnam's leading developer Cotec Construction (Coteccons) after purchasing 100,000 shares of the company. The move has increased its holding in Coteccons to 5.09%, which took effect on July 3. Coteccons' share value stood at VND142,000 (US$6.17) per share on July 3, so VinaCapital is believed to have spent VND14 billion (US$608,300) on this deal. VinaCapital's decision has caught market attention, following its recent divestments in a series of companies, such as the selling of 332,600 Tasco shares, 7.82 million shares of entertainment group Yeah1, and 420,000 FPT Retail shares.
Industrial, economic zones draw 445 FDI projects in first half
The Saigon Times
Foreign direct investment (FDI) enterprises registered to inject nearly US$7 billion in 445 projects in industrial parks and economic zones in the first half of the year. Domestic firms invested an additional VND46 trillion in 259 projects during this period. However, the capital invested in both FDI and domestic investment projects in the first half went down y-o-y. As of June, Vietnam had 325 industrial parks, covering an area of nearly 95,000 hectares. Of these, 231 industrial parks are operational, while site clearance and compensation work are being carried out for 94 others. Projects have occupied 53% of industrial zones, with the occupancy rate exceeding 73% in active zones.
HCMC targets economic growth of 8.3-8.5% in 2018

The HCMC government will adopt many solutions, especially credit expansion, to support enterprises and encourage investments to achieve a GRDP growth rate of 8.3-8.5% this year. The city government expressed hope that private investment in the city would account for 35% of the GRDP and the city budget revenue target would be fully realized. The city also planned to develop a new hi-tech industrial park and establish an additional 46,000 enterprises this year. The city also reported positive results in domestic and foreign direct investment in the first half of the year. The number of FDI projects surged compared with the same period last year, while the investment environment has improved. Secretary of the HCMC Party Committee Nguyen Thien Nhan also told the meeting that the Government had allowed HCMC to convert 26,000 hectares of agricultural land into land for industry and services for socioeconomic development.
Van Don international airport welcomes first plane
The Van Don International Airport in Quang Ninh Province welcomed the first aircraft on the morning of July 11, marking an important milestone in preparations for putting the airport into official operation later this year. Construction on the airport, the first in Vietnam invested in by a private enterprise – the Sun Group – in the BOT formula, started in March 2016 in Doan Ket Commune of Van Don district, with a total investment of US$334 million. The airport is expected to become operational this December, with 9 air routes and capable of serving around 7,000 passengers per day. The airport will have an annual capacity of 2-2.5 million passengers by 2020, which will increase to 5 million by 2030.
Wínk Hotels secures prime location in Danang for its third project in Vietnam

Indochina Kajima Development Limited, the developer of the innovative Wínk Hotels brand, has acquired a second site in Danang for the construction of its third hotel under the brand name of Wínk in Vietnam. The latest US$40 million Wínk Hotel will be located in Danang's business and entertainment district, promising to satisfy the young-at-heart traveler's contemporary set of desires. The property will offer a new style of entertainment, innovative food and beverage concepts, minimalist-style guestrooms, state-of-the-art technology, and a well-equipped co-working space—a tantalizing hospitality experience that will be the first of its kind in Vietnam.
Leading hotel management brands set foothold in Vietnam

Global hotel management brands have made their presence felt in Vietnam in the wake of the robust development of the tourism sector and resort property. Since the start of this year, a number of new brands have landed in markets across Vietnam, such as Mandarin Oriental and Movenpick in HCMC, and Best Western Premier in Quang Binh. According to the United Nations World Tourism Organization (UNWTO), Vietnam is placed sixth among the world's 10 fastest growing tourism markets. Last year, Vietnam greeted more than 12.9 million international visitors and 73.2 million locals, generating VND510 trillion ($22.6 billion) in total tourism revenue. In the first quarter of this year, more than 4.2 million foreign visitors came to Vietnam, a 30.9 per cent jump on-year.
Construction of Sapa Airport to be started before 2020

The People's Committee of the northern mountainous province of Lao Cai has proposed the Ministry of Transport to consider the approval of building Sapa Airport at a total capital of VND5,800 billion (US$252 million). A 4C level airport will be located on 371 ha in Cam Con commune, Bao Yen district. In the first phase, the aiport can meet a capacity of 560,000 passengers and 600 tons of goods per year by 2030. The area is guaranteed to receive aircrafts of A320 / 321 or others equivalent. In the second phase, the airfield will receive 1.5 million passengers and 2,880 tons of goods per year by 2030. The project's first phase is expected to be kicked off before 2020.
VI Group-backed logistics player Gemadept divests 51% stake in port JV

VI Group-backed logistics firm Gemadept Corporation has completed the divestment of 51% stake in its subsidiary Gemadept – Hoa Sen International Port. Established in 2006, the port was owned 51% by Gemadept while Vietnamese steel producer Hoa Sen Group held the rest. Gemadept Corp earlier announced that it has signed a contract to transfer the entire 51% stake in Hoa Sen-Gemadept International Port. The transferee was said to be a South Korean partner. Hoa Sen Group, meanwhile, also announced the transfer of the entire 45% stake in Gemadept-Hoa Sen International Port. After the transaction, Hoa Sen's capital ratio fell to zero. Last year, South Korea's CJ Logistics acquired a majority stake in two shipping and logistics subsidiaries under Vietnamese logistics company Gemadept Corp.
FOR MORE INFORMATION,CONTACT:
Dung Duong MRICS
Director
T +84 8 3824 6125
dung.duong@cbre.com
An Nguyen
Director
T +84 4 2220 0220
an.nguyen@cbre.com