HCMC to apply Prime Minister's Directive 16 from July 9, Vietnam among top destinations for ASEAN companies looking to expand business inside bloc, Korean investors establish alliance to develop smart city tech for Vietnam…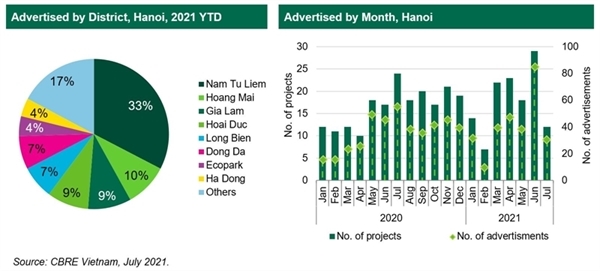 No New Launch.
Advertisement

Masteri West Heights -– Nam Tu Liem District

Total units: 3,599 units
Scale: 21,087 sqm
Unit size: 27 – 127 sqm (Studio, 1-3 bedrooms, Duplex)
Price*: from VND 50 million psm

Lancaster Luminaire – Dong Da District

Total units: 300 units
Scale: 6,042 sqm
Unit size: 55 – 155 sqm
Price*: from VND 65 million psm

Swanlake Residences The Onsen – Hung Yen District

Total units: 1,407 units (R1 R2 R3)
Scale: 10,000 sqm
Unit size: 72 – 106 sqm
Price*: from VND 40 million psm
* Prices included VAT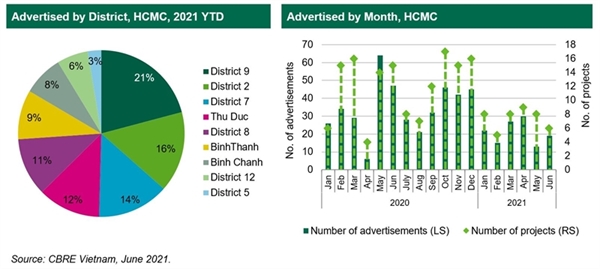 No New Launch
Advertisement

Lumière Riverside (District 2)

Developer: Masterise Homes
Total units: 4 towers
Unit size: 1 – 4 bedrooms, Shophouse, Duplex, Penthouse

Masteri Centre Point (District 9)

Developer: Masterise Homes
Total units: 10 towers
Unit size: 1 – 4 bedrooms
* Prices included VAT
Note: Selected newspapers include Dau Tu Bat Dong San, Thoi bao kinh te Vietnam, The gioi thong tin bat dong san, CafeF, Tuoitre, Tap chi dau tu bat dong san, Vietnamnet, Thi truong Bat dong san & Tai san, Nguoi dua tin, VnExpress
HCMC to apply Prime Minister's Directive 16 from July 9
SGGP

| | | Chairman of Ho Chi Minh City People's Committee Nguyen Thanh Phong announced at a meeting with the city's Committee for Covid-19 Prevention and Control yesterday that HCMC is to enter a citywide social distance time following Directive No.16 of the Prime Minister for 15 days, starting from 12am July 9. All districts and Thu Duc City are demanded to take full advantage of this social distance period to more effectively control Covid-19 hot spots in their area. Citizens and businesses must be sufficiently noticed of the content of this Directive so that they can cooperate with the localities in this critical task. |
| --- | --- | --- |
Vietnam among top destinations for ASEAN companies looking to expand business inside bloc
Vietnamplus

| | | Vietnam is among the top expansion destinations for ASEAN companies looking for growth opportunities in the 10-nation bloc, according to a survey commissioned by Standard Chartered for its "Borderless Business: Intra-ASEAN Corridor" report released on July 8. According to the survey, 80 percent of the respondents are focusing on expanding in Singapore to capture sales and production opportunities, followed by Thailand (60 percent) and Vietnam (59 percent). |
| --- | --- | --- |
Korean investors establish alliance to develop smart city tech for Vietnam

| | | Three Korean companies have teamed up to develop a smart city system to manage future urban growth in Vietnam, based on Daewoo E&C's plan for the Starlake City project in Hanoi. Daewoo E&C Vina has signed a strategic partnership with SparkLabs Korea and Bespin Global to collectively build a smart city platform in Vietnam. The three companies plan to build and operate a smart city-integrated management platform to utilise data generated from Daewoo E&C's Vietnam smart city and smart construction effort. Additionally, they plan to introduce and implement open innovation to discover, invest, and nurture technology startups to be introduced into ASEAN countries with a primary focus on Vietnam. |
| --- | --- | --- |
Long An leads country in attracting FDI

| | | The southern province of Long An led the country in attracting foreign direct investment (FDI) capital in the first half of this year, despite the COVID-19 pandemic. The province licensed 30 FDI projects with total investment capital of more than US$3.3 billion, of which over $3 billion was poured into the Long An LNG power plants No 1 and 2. In addition, Long An also issued investment licences to 77 domestic projects with total registered capital of nearly VND5.6 trillion ($243 million). |
| --- | --- | --- |
HCMC asks removal of three pending industrial parks to create clean land fund

| | | To welcome the investment wave, attract projects of supporting industry, high-tech industry, and industry with large supply chains in the region, maintain the role of the economic locomotive of the whole country, the People's Committee of Ho Chi Minh City has just proposed the Government to allow the removal of three industrial parks (IPs), comprising Bau Dung and Phuoc Hiep in Cu Chi District, and Xuan Thoi Thuong in Hoc Mon District. The city proposed to replace them with Pham Van Hai Industrial Park in Binh Chanh District, with a total area of 668 hectares. |
| --- | --- | --- |
Vietnam's economy to surpass Singapore's by 2030: DBS Bank
Vietnamnews

Vietnam's economy is expected to grow by between 6-6.5 per cent over the next decade. If it does, it will surpass Singapore by 2030, DBS Bank experts have said.

Last year, Vietnam's economy was worth US$343 billion while Singapore's was $337.5 billion, and Malaysia's hit $336.3 billion. This ranks Vietnam the 40th largest economy globally and fourth in the Association of Southeast Asian Nations (ASEAN).

In their latest forecast, the International Monetary Fund (IMF) and the Asian Development Bank (ADB) said Vietnam was on track to outpace both Malaysia and Singapore this year.
| | | Vietnam had a H1 2021 trade deficit of $1.47 billion, compared with a surplus of $5.86 billion in the same period last year. The Ministry of Industry and Trade had reported a trade deficit of $1 billion in June, the second straight month that a deficit was recorded. Between January and June, local firms posted a trade deficit of over $15 billion, while foreign-invested enterprises secured a trade surplus of $13.64 billion. |
| --- | --- | --- |
Vietnam effectively taps opportunities from FTAs
Vietnamplus

In recent years, Vietnam's legal system has been improved on a par with international standards. Since Vietnam joined the World Trade Organisation

(WTO), law making and law enforcement have been bettered with policies broadly consulted in line with international regulations. When Vietnam participated in FTAs, these policies have been perfected.

The scale of domestic businesses has also been upgraded as many enterprises in various fields such as banking and telecommunications have become the backbone of the economy and reached out to the world.

FTAs have brought great opportunities to Vietnam, reflected by its export growth in major markets. Of those, the Comprehensive and Progressive Trans-Pacific Partnership Agreement (CPTPP) has created momentum for Vietnam's exports.