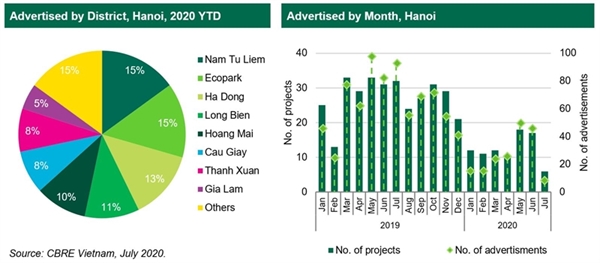 No New Launch

Advertisement

The Terra – An Hung (Ha Dong District)

Total units: 1,320 units

Scale: 35.574 sqm

Unit size: 74.3 – 140.8 sqm (1 – 4 bedrooms)

Price*: from VND 23 million psm

The Martrix One (Nam Tu Liem District)

Total units: 1,752 units

Scale: 39.8 ha

Unit size: 49 – 150 sqm (1 – 3 bedrooms) & 324 – 738 (penthouse)

Price*: from VND 50 million psm

Vinhomes Ocean Park- Sapphire 1 S1.07 (Gia Lam District)

Total units: 513 units

Unit size: 30.9 – 81.5 sqm (1-3 bedrooms)

Price*: from VND 36 million psm
* Prices included VAT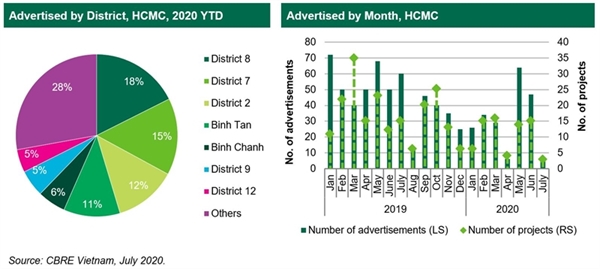 No New Launch

Advertisement:
* Prices included VAT
Note: Selected newspapers include Dau Tu Bat Dong San, Thoi bao kinh te Vietnam, The gioi thong tin bat dong san, CafeF, Tuoitre, Tap chi dau tu bat dong san, Vietnamnet, Thi truong Bat dong san & Tai san, Nguoi dua tin, VnExpress
Vietnam's public investment estimated at VND156 trillion in first half
Nhandan
| | | |
| --- | --- | --- |
| | | Vietnam's public investment disbursement in the first half of 2020 was estimated at VND156 trillion (US$6.7 billion), according to the Ministry of Planning and Investment (MPI). The figure is equivalent to 33.1% of the target set by the National Assembly, higher than the 28.56% recorded during the same period in 2019. The MPI said that disbursement of domestic capital was estimated at VND142 trillion (US$6.1 billion), while foreign capital disbursement is at VND5.7 trillion (US$250,000). |
HCMC seeks to revive public buses with new operators
VnExpress
HCMC plans to invite bids for 45 bus routes with new criteria for service quality as it seeks to revive usage of public transport.

The bidding process will get underway in the third quarter, with requirements including operators to replace their buses every five years, operate punctually and keep the vehicles clean, Le Hoan, deputy director of the HCMC Management Centre of Public Transport (MCPT), said at a press briefing on Thursday.
M&A set for a bustling second half
VIR
| | | |
| --- | --- | --- |
| | | Mergers and acquisitions (M&A) deal-making will probably increase at a steady pace in the second half of 2020, led by the upcoming mega deal of Vietnam's leading brewer Sabeco. According to a government document released last week, the Vietnamese government will sell its remaining 36 per cent stake in Sabeco by the end of this year. The state can collect VND37.6 trillion (around $1.63 billion) from the divestment. |
Developers race to buy lands post-pandemic
VnExpress
Property companies are snapping up prime lands, taking advantage of distress selling as the Covid-19 pandemic continues to weigh on the economy.

Hung Thinh Group recently acquired 1,000 hectares in the Central Highlands province of Lam Dong, home to travel hotspot Da Lat.

An Gia Group said at its annual general meeting in June that this is a "golden" time to expand its land holdings. It plans to spend VND3-5 trillion ($130-216 million) this year to buy in HCMC and nearby Dong Nai, Long An, Ba Ria – Vung Tau, and Binh Duong provinces.

Nam Long Group plans to spend VND2 trillion ($86.5 million) this year to buy in provinces and cities near HCMC

.
New investment wave starts despite COVID-19
VIR
| | | |
| --- | --- | --- |
| | | The new wave of foreign investment triggered by COVID-19 and US-China trade tensions has become more visible, with outstanding overseas ventures being expanded in the first half of the year. Multinational corporation Techtronic Industries (TTI), which is developing a $650 million plant complex in Saigon High-tech Park, recently met with more than 100 domestic suppliers to find a vendor for its project, which will focus on manufacturing hand-held cordless power tools and outdoor power equipment while being at the forefront of lithium-ion batteries, digitally-controlled motors and tools, and wireless applications. |
Covid-19 crisis to rob more jobs as export orders plummet
VnExpress
The number of job cuts in Vietnam could rise in the second half of the year as manufacturing companies see orders plummet amid the coronavirus pandemic.

Most wood product manufacturers in HCMC have cut their staff by 20-30 percent, according to Nguyen Chanh Phuong, deputy chairman of the city's Handicraft and Wood Industry Association.

Since April, buyers from major export markets such as the U.S., Japan and the E.U. have been canceling or delaying their orders, and therefore, production of high-end furniture has mostly been suspended, he said.

Businesses are trying to survive by letting laborers work part time to avoid terminating contracts, he added.
HCMC to attempt capitalization on new metro train
SGGP
| | | |
| --- | --- | --- |
| | | Methods to capitalize on the land fund around the new metro train project are being discussed among experts and implemented step by step in HCMC, in hopes of attracting real estate investments and increasing budget capital for the city. The HCMC Department of Planning and Architecture in June 2020 was directed to survey the land areas up to 800m around the new metro stations, as well as determine their current use purpose and legality of each land plot. The order was given by Vice Chairman of HCMC People's Committee Vo Van Hoan as part of a plan to implement effective investment policies for the above land funds, thus increase capital budget for the city. |
HCMC to complete 32 key transport projects in 2020
VIR
SM Entertainment, one of the largest entertainment companies in the Republic of Korea, plans to open its first store in Vietnam, based in the southern hub of Ho Chi Minh City.

It will also be its first overseas store to include SMTown Store, where customers can purchase merchandise of popular musical artists, including albums and posters, and a café that serves food and drinks.
FOR MORE INFORMATION,CONTACT:
Dung Duong MRICS
Senior Director
T +84 286 284 7668
dung.duong@cbre.com
An Nguyen
Director
T +84 24 6288 6379
an.nguyen@cbre.com