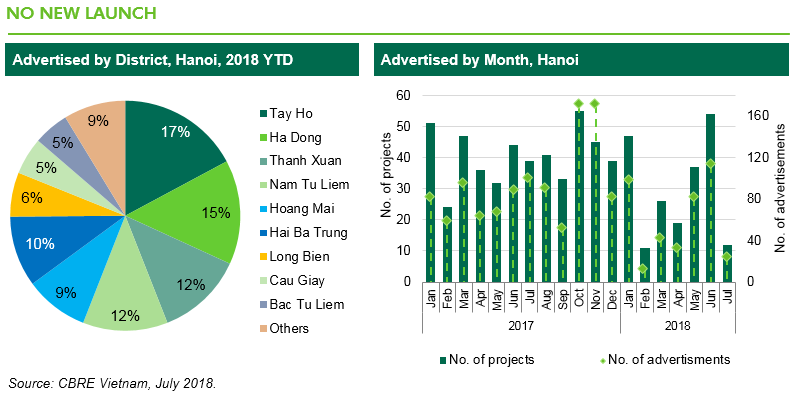 Advertisement:

Ecolife Capitol (Nam Tu Liem District)

Total units: 760 units
Scale: 10,622 sm land area
Unit size: 45 – 111 sm (1 – 3 bedrooms)
Price*: from VND 26 million psm

Tecco Skyville Tower (Thanh Tri District)
Total units: 704 units
Unit size: 53.2 – 106.7 sm (2 – 3 bedrooms)
Price*: from VND 21 million psm
Total units: 1,866 units
Scale: 3.8 ha land area
Unit size: 58 – 105 sm (2 – 3 bedrooms)
Price*: from VND 34 million psm
Imperia Sky Garden (Hai Ba Trung District)
* Prices included VAT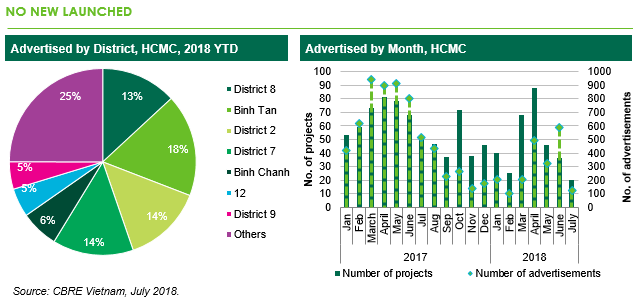 Advertisement:

Q7 Sai Gon Riverside (District 7)

Total units: 3,580 units
Scale: 77,224 sm land area
Unit size: 53.2 – 86.7 sm (1 – 3 bedrooms)
Price*: from 26 VND million psm

Kingdom 101 (District 10)
Total units: 986 units
Scale: 11,415 sm land area
Unit size: 47 – 101 sm (1 – 3 bedrooms)
Price*: from VND 55 million psm
* Prices included VAT
Social housing apartment program has hiccup along way

Despite enormous demand of social housing, the number of housing projects just meets 30% of demand in localities. For the period 2011-2020, the country is in dire demand of 440,000 apartments including 134,000 ones in HCMC and 110,000 ones in Hanoi. In Vietnam, social housing is a type of accommodation constructed by the government, organizations or individuals, intended for purchase or rent by residents, especially for low-income ones.
Vingroup develops housing for low income people
The Saigon Times

In order to provide the market with affordable housing products, Vingroup Group will implement the strategy of building houses for low-income people in industrial zones in some provinces. except for the two big cities of Hanoi and HCMC. Accordingly, Happy Town apartments will be developed with a minimum area of 30 sm/unit. It is expected that in the first phase, Happy Town will be deployed in three provinces with large industrial zones, which are concentrated in large numbers of migrant workers such as Bac Ninh, Binh Duong and Dong Nai.
Phu Quoc has attracted more than $12 billion

Capital flows continue to flow into Phu Quoc to take advantage of business opportunities from resort tourism. Management Board of Phu Quoc Economic Zone, as of mid-June 1818, Phu Quoc has attracted 279 investment projects with an area of 10,754ha. Accordingly, 249 projects have been granted investment registration certificates, investment decisions, with a total area of over 9,000 hectares, total registered capital of nearly 270,500 billion VND, remaining 30 projects are completing the registration procedures.
Vinhomes bought the Cu Chi GS project from CT Group

Vinhomes has recently made a transfer of shares of Cu Chi GS Development Corporation. The number of shares transferred is about 32 million. The percentage of Vinhomes' holdings in GS Cu Chi will increase to 98% and officially become a subsidiary of this real estate developer. Not long ago, Vinhomes also bought the Vietnam International University Residential Area (Hoc Mon) from the Berjaya Group (Malaysia).
France supports HCMC to build smart cities

HCMC said that the city is interested in deploying smart urban construction (Smart City) to solve the urgent issues of people such as traffic jams, floods, environment, etc. Building Smart City will help the city improve its operational capacity, forecasting strategies, enhancing interactions, exchanging information between the authority and its people. Technology, intelligent urban design, environmental treatment companies from France will also coordinate support to agencies who are responsible for planning smart urban deployment of HCMC.
HCMC asks for self-determination over infrastructure projects

HCMC would like to be given self-determination over project investment to speed up the progress of many infrastructure projects. The city authorities said that it needed over VND9 trillion ($391.9 million) yet it was given VND2,364 billion which meets 30 percent of the city's demand; accordingly, the city authorities have petitioned the Prime Minister to allow it to use official assistance development (ODA) funds for urgent projects in the city.
Japan to help Vietnam get a better grasp of land prices

Japan hopes to pave the way for its companies in Vietnam and other Asian markets by exporting techniques for real estate appraisal, creating opportunities by fostering urbanization and financial industries. Vietnam's northern coastal city of Haiphong will consider introducing the methods this summer with specialists commissioned by Japan's land ministry. Property prices have seemingly been growing as the city urbanizes, but land prices provided by the Vietnamese government do not fully reflect actual market values, leaving the country without a benchmark to use in business.
Stock markets from Vietnam to Tokyo hit by trade war contagion

In the US versus China trade conflict, China isn't the only loser for equity investors. Asian markets from Shanghai to Tokyo – and even HCMC – have been the biggest casualties ahead of American tariffs on US$34 billion of Chinese exports and retaliatory measures set to begin Friday.
Vietnam central bank ready to intervene as dong dips

The Vietnamese currency hit 22,965 to the dollar on Friday as the greenback rose in global markets. Vietnam's central bank is willing to intervene in the foreign exchange market to ensure stability, its governor said on Monday after the dong currency fell to a record low last week. The dong hit 22,965 to the dollar on Friday, a drop that the central bank attributed to the U.S. currency's rise on global markets and recent falls on the Vietnamese stock market.
Vietnam gives three-year extension for visa waiver to five European countries

Vietnam's latest extended visa-free travel policy for citizens from five Western European countries officially came into effect on Sunday, with a longer validity of three years, compared to one year in the last three renewals. Visitors from the UK, Germany, France, Italy and Spain have enjoyed visa exemption, with an allowed stay of 15 days for each entry, when traveling to Vietnam since July 2015, when the year-long policy was introduced. During a government meeting on May 3, Vietnam's Prime Minister Nguyen Xuan Phuc agreed to continue easing visa requirements for visitors from these five countries from July 1, 2018.
FOR MORE INFORMATION,CONTACT:
Dung Duong MRICS
Director
T +84 8 3824 6125
dung.duong@cbre.com
An Nguyen
Director
T +84 4 2220 0220
an.nguyen@cbre.com