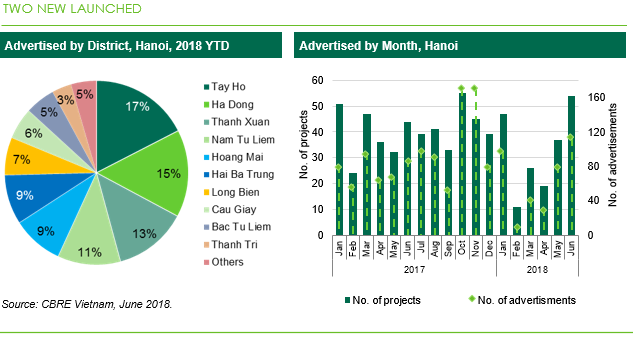 2 New Launched:

Mipec City View – M2 Building (Ha Dong District)

TTotal units: 230 units
Scale: About 2,220 sm land area
Unit size: 50.9 – 68.9 sm (2 bedrooms)
Price*: from VND 16 million psm

Ecolife Tay Ho (Tay Ho District)
Total units: 40 units
Scale: 6,834 sm land area
Unit size: 90- 128 sm (2-3 bedrooms)
Price*: from VND 27 million psm


Advertisement:
Green Pearl (Hai Ba Trung District)

Total units: 504 units
Scale: 10,334 sm land area
Unit size: 71.5 – 140 sm (2-3 bedrooms)
Price*: from VND 30 million psm

* Prices included VAT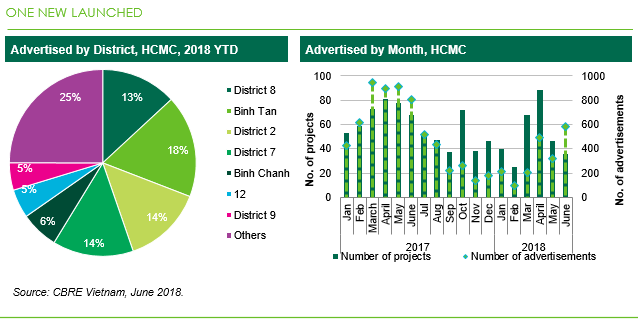 1 New Launched:

One Verandah (District 2)

Total units: 779 units
Scale: 16,684 sm land area
Unit size: 55 – 109 sm (1 – 3 bedrooms)
Price*: from 55 VND million psm

Advertisement:
Q7 Sai Gon Riverside (District 7)

Total units: 3,580 units
Scale: 77,224 sm land area
Unit size: 53.2 – 86.7 sm (1 – 3 bedrooms)
Price*: from 26 VND million psm

Kingdom 101 (District 10)
Total units: 986 units
Scale: 11,415 sm land area
Unit size: 47 – 101 sm (1 – 3 bedrooms)
Price*: from VND 55 million psm
* Prices included VAT
FDI inflows to Vietnam reach US$20.33 billion in six months

FDI commitments in the first six months totaled US$20.33 billion, up 5.7% year-on-year. As of June 20, disbursement progress of FDI projects jumped to US$8.37 billion, representing an increase of 8.4% year-on-year. On breaking down, 1,366 new projects have been approved with total investment capital of US$11.8 billion, small changed from the corresponding period last year, while 507 existing projects have injected an additional US$4.43 billion, down 13.8% from the same period last year. In the first six months, 2,749 projects have had US$4.1 billion in capital contributed by foreign investors, up 82.4% year-on-year. Investors have invested in 17 fields and sectors, in which manufacturing and processing continued to attract substantial attention with investment capital of US$7.91 billion, accounting for 38.9% of total capital approvals. Real estate was the second most heavily invested, with US$5.54 billion, followed by retail and wholesale with US$1.5 billion or 7.4% of total registered capital.
Japan's Nomura invests in HCMC's Sun Wah Tower
VnExpress

Tokyo-based real estate firm Nomura has announced a 24% acquisition of the Sun Wah Tower on Nguyen Hue Street in HCMC. Nomura said it is looking to cash in on opportunities created by the rising demand for office space. The company did not reveal the value of the deal but it said that the tower, invested in by Hong Kong's Sun Wah Group, is the very first A-listed office tower in the Asia-Pacific region that it has invested in. Standing in the heart of HCMC's District 1, the tower rises 23 floors with a total area of 20,800 sm. According to Nomura, HCMC lacks A-listed office space, demand for which is expected to increase in the future. Investing in Sun Wah Tower was a sound move given its prime location, the company said.
Keppel Land divested, Son Kim Land jumped into Quoc Loc Phat

Singapore Real Estate group Keppel Land has announced a partial withdrawal of its stake in Quoc Loc Phat – a developer of Song Viet project (now renamed Metropole Thu Thiem). Specifically, the subsidiary of Keppel land, Keppel Thu Thien has transferred a 20% stake in Quoc Loc Phat for US$42.2 million. Keppel Land still holds about 15% in Quoc Loc Phat through another subsidiary, Orbista. However, the company will also seek partners to sell the stake in the future. While Keppel Land divested, a new name appeared, Son Kim Land. Recently, this new investor has signed a cooperation agreement with Quoc Loc Phat in development of Thu Thiem Metropole project, together with Vietcombank.
Ports along Saigon River to be relocated

All ports along the Sai Gon River will be relocated by the end of this year to reduce pressure on transport in HCMC. Since 2013, HCMC, Dong Nai and Ba Ria – Vung Tau have not licensed the construction of new ports and has not accepted investment for port expansion. In addition, efforts have been taken to relocate ports in HCMC. Last year, the Tan Cang – Sai Gon Port in Binh Thanh District was moved to Cat Lai in District 9. The Sai Gon Port JSC has completed construction of major works of the Sai Gon – Hiep Phuoc Port project, so that it can handle vessels and cargo from Nha Rong – Khanh Hoi Port in District 1. Port operations have been transferred to Sai Gon – Hiep Phuoc Port in Hiep Phuoc Industrial Park in Nha Be District, and work on the relocation of the port is scheduled to be completed within the second quarter of this year. Also, 4.0 technology is planned to apply to further simplify procedures and provide support to enterprises.
Hanoi in search for infrastructure fund

Hanoi has created favourable conditions for luring investment in infrastructure under the build-transfer (BT) mode. The city's limited budget cannot afford infrastructure transport projects, so attracting investment from other sources is necessary. Thus, the municipal People's Committee had introduced policies to incentivize capital mobilisation through public-private partnerships (PPP) or BT. This year, city authorities have given approval for pre-feasibility studies on five BT projects. Some projects were mapped out by authorities while others had been proposed by businesses. All projects would be monitored by Government inspectors. Recently, BT infrastructure projects in Hanoi and in the countryside have attracted heavy criticism, most notably for a lack of transparency, which leads to corruption risks. The city also had to give up many land lots, including several hectares in prime locations, for private project developers, causing a lack of land for the city and concerns over wastefulness.
Hanoi is having two large residential areas housing 170,000 people

Two large projects with a total area of 700 hectares in Gia Lam and Nam Tu Lam will house nearly 170,000 people. Residential project Gia Lam is located in Gia Lam District. The research area has the total acreage of approximately 420 hectares and has a population scale of 89,500 people, developed by Gia Lam – Investment and Residential Development Company with total capital of VND87,385 billion. Hanoi has also approved the detailed adjustments of the New Residential Area Tay Mo – Dai Mo, belongs to Nam Tu Liem District. The project has the total acreage of 280 hectares with an estimated population of 80,000 people, developed by Tay Ha Noi – Development Investment Company with invested capital VND of 80,000 billion. Both Investment and Residential Development Company, Gia Lam and Development Investment Company, Hanoi belong to Vingroup Corporation.
Japan to help Vietnam get a better grasp of land prices

Japan hopes to pave the way for its companies in Vietnam and other Asian markets by exporting techniques for real estate appraisal, creating opportunities by fostering urbanization and financial industries. Vietnam's northern coastal city of Haiphong will consider introducing the methods this summer with specialists commissioned by Japan's land ministry. Property prices have seemingly been growing as the city urbanizes, but land prices provided by the Vietnamese government do not fully reflect actual market values, leaving the country without a benchmark to use in business.
General Motors to transfer Vietnam operation to Vingroup's car arm

General Motors (GMN) has agreed to transfer its Vietnamese operation to VinFast Trading and Production LLC and distribute Chevrolet cars through the local carmaker, in a move that could help drive up its modest sales in the country. The U.S. automaker will transfer full ownership of its Hanoi factory to VinFast for the Vietnamese firm to produce small cars under a GM global license from 2019, the companies said in a statement on Thursday, without disclosing a value for the deal. The transfer, which includes GM's Hanoi plant, dealer network and employee base, is expected to be conducted by the end of 2018.
Southeast Asia's largest solar project to be built in Vietnam

Vietnamese construction firm Xuan Cau and Thailand conglomerate B.Grimm have teamed up to build Southeast Asia's largest solar power plant in Tay Ninh Province. The $420 million project is set to open for commercial use in June 2019. The signing of the joint venture agreement in Bangkok was witnessed by the prime ministers of both countries. With Vietnam's electricity demand growing significantly, B.Grimm estimates that the project will eventually account for 30 percent the company's total income. Solar power currently accounts for 0.01 percent of the country's total power output, but the government plans to increase the ratio to 3.3 percent by 2030 and 20 percent by 2050. Vietnam is aiming to produce 10.7 percent of its electricity through renewable energy by 2030, mainly through solar and wind energy.
Removing the threshold of housing tax at 700 million

The drafting agency has abandoned the tax threshold of VND700 million, and is preparing a new draft. Currently the new draft has dropped the threshold of VND700 million. However, the drafting committee has not yet finalized the tax, whether according to market value, or construction value, or by area. The new draft is being actively researched and completed by the research team. It is expected to submit new draft in the coming time and widely consult people.
FOR MORE INFORMATION,CONTACT:
Dung Duong MRICS
Director
T +84 8 3824 6125
dung.duong@cbre.com
An Nguyen
Director
T +84 4 2220 0220
an.nguyen@cbre.com