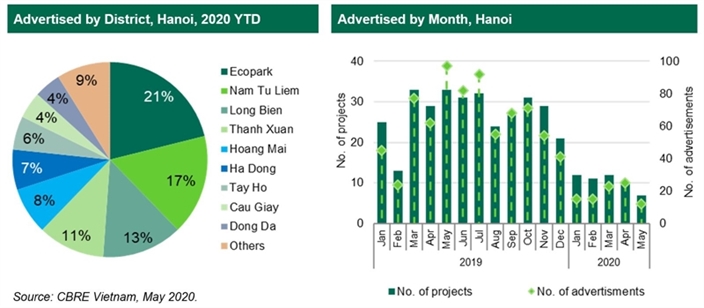 Advertisement:
The Terra An Hung (Ha Dong District)

Total units: 1,328 units
Scale: 35,574 m2
Unit size: 74.3 – 140.8 sqm (1 – 4 bedrooms)
Price*: from VND23 million psm

Ecopark Sky Oasis (Van Giang District – Hung Yen)
Total units: 1,256 units
Scale: 18,247 sm land area
Unit size: 29.2 – 96.1 sm (1- 3 bedrooms) & 126.2 sm (penthouse)
Price*: from VND26 million psm
Total units: 1,752 units
Scale: 39.8 ha
Unit size: 49 – 150 sqm (1 – 3 bedrooms) & 324 – 738 (penthouse)
Price*: from VND 50 million psm
Total units: 976 units
Scale: 41,000 sqm
Unit size: 53.3 – 125.1 sm (2 – 4 bedrooms)
Price*: from VND38 million psm
The Martrix One (Nam Tu Liem District)
Mipec Rubik360 (Cau Giay District)
* Prices included VAT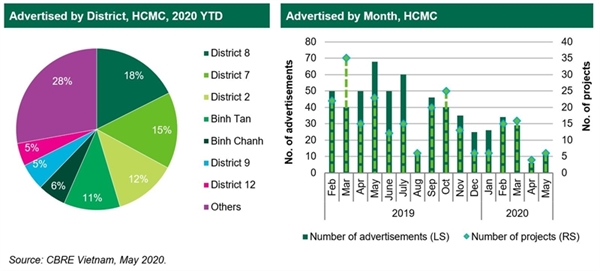 No New Launch
No New Advertisement:
* Prices included VAT
Note: Selected newspapers include Dau Tu Bat Dong San, Thoi bao kinh te Vietnam, The gioi thong tin bat dong san, CafeF, Tuoitre, Tap chi dau tu bat dong san, Vietnamnet, Thi truong Bat dong san & Tai san, Nguoi dua tin, VnExpress
Year-end is new completion date for Hanoi's first underground metro station
VnExpress

| | | |
| --- | --- | --- |
| | | Hanoi's first subway station is set to be completed by the end of the year with construction going on the first of two floors. Working on S9, the first of four underground stations on the Nhon – Hanoi Railway Station route, began in June last year, and the Hanoi Metropolitan Railway Management Board had originally planned to complete all the four stations in last year. |
HCMC to auction three plots of land in Thu Thiem area
Tuoitrenews

| | | |
| --- | --- | --- |
| | | Three parcels of land in the Thu Thiem New Urban Area in HCMC and associated properties will be put up for auction as the municipal authority has failed to sell a total of 2,220 unused resettlement apartments there. The city's vice-chairman Vo Van Hoan has approved in principle a plan to auction both the rights to land use and associated properties on three plots of land located in a 38.4-hectare area in Binh Khanh Ward of District 2. |
Social housing development important to driving market out of difficulties
VIR

| | | |
| --- | --- | --- |
| | | Social housing could be the solution to driving the real estate market out of this difficult time caused by the COVID-19 pandemic, according to the Ministry of Construction. Director of the ministry's Housing and Real Estate Market Management Department Nguyen Trong Ninh said the pandemic had revealed limitations in the real estate market. Ninh said the market was suffering from the impacts of COVID-19, and around 80 per cent of brokerage companies had closed. The number of new firms operating in the real estate sector had dropped by 11.9 per cent, while the number of firms that had halted operations in the first quarter was up 94.1 per cent on-year. |
HCMC looking to secure multi-billion-dollar metro project
VIR

| | | |
| --- | --- | --- |
| | | HCMC is seeking the prime minister's approval for the project to build Metro Line 3A connecting Ben Thanh and Tan Kien with the total investment capital of VND68 trillion ($2.96 billion). According to the Management Authority for Urban Railways (MAUR) of HCMC People's Committee, Metro Line 3A is an especially important component in completing the city's public transport system. Once completed, the metro line will offer a direct connection to the Ben Thanh-Suoi Tien metro line (Metro Line 1), creating a modern transport corridor linking the city's northeast to the southwest. |
HCMC and Binh Duong drop out of PCI top 10
VIR

| | | |
| --- | --- | --- |
| | | In the 2019 Provincial Competitiveness Index (PCI) released yesterday (May 5), Binh Duong province and Ho Chi Minh City dropped to the 13th and 14th, with significant improvements reported in other cities and provinces. In the 2019 PCI, Quang Ninh province retained the top place for the third consecutive year with 73.4 points. It is followed by Dong Thap, Vinh Long, Bac Ninh, Danang, Quang Nam, Ben Tre, Long An, Hanoi, and Haiphong. Most cities and provinces are recognised to have achieved remarkable improvements to retain their top ranking. |
HCMC suggested to develop recovery program for post-COVID-19 economy
Sggpnews

| | | |
| --- | --- | --- |
| | | An economic recovery program for post-COVID-19 HCMC was proposed during an online seminar by Dr. Tran Du Lich, member of the Government's Economic Advisory Group, and earned the agreement of Nguyen Thanh Phong, member of the Party Central Committee and chairman of HCMC People's Committee |
Vietnam retail sales fall 9.6 per cent since January
Insideretail

Vietnam retail sales fell 9.6 per cent year on year over the first four months of this year, according to the General Statistics Office.

However, sales of consumer goods across the country increased by 0.4 per cent, reflecting increasing demand for groceries and online shopping during the Covid-19 outbreak.
No karaoke, disco as Vietnam resumes most non-essential services
VnExpress

Vietnam can organize sports events and festivals and resume most non-essential services except karaoke parlors and discos.

With the country going 21 days clear of any community transmission of the Covid-19 virus, Prime Minister Nguyen Xuan Phuc has allowed localities to organize events with large gatherings, including sports events and festivals, in public places, but people are still advised to wear face masks and use hand sanitizers.
FOR MORE INFORMATION,CONTACT:
Dung Duong MRICS
Senior Director
T +84 286 284 7668
dung.duong@cbre.com
An Nguyen
Director
T +84 24 2220 0220
an.nguyen@cbre.com