CBRE Newspaper Updates on Residential Ads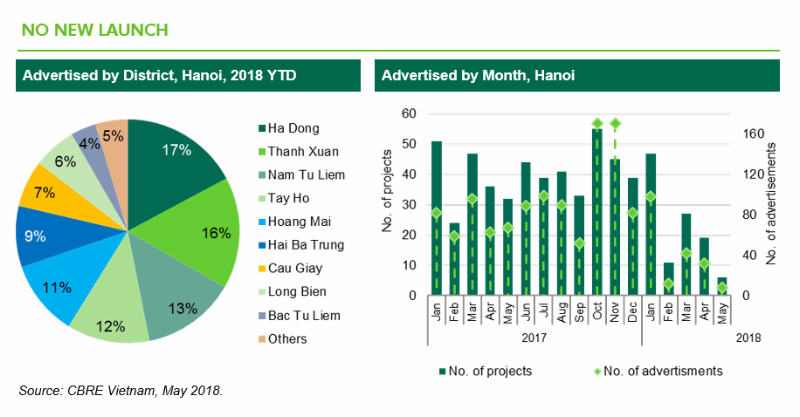 Advertisement:

Bohemia Residence (Thanh Xuan district)

Total units: 232 units
Scale: 3,050 sm land area
Unit size: 85 – 136 sm (2 – 3 bedrooms)
Price*: from VND 26.1 million psm

Anland Complex (Ha Dong district)
Total units: 500 units
Scale: 7,052 sm land area
Unit size: 54 – 91 sm (2 – 3 bedrooms)
Price*: from VND 25 million psm
Total units: 2,732 units
Scale: Eight 35-floor blocks
Unit size: 74 – 114 sm (2 – 3 bedrooms)
Price*: from VND 27 million psm​
An Binh City (Bac Tu Liem District)
Prices included VAT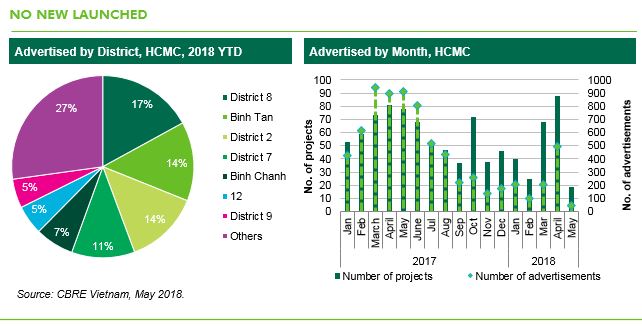 One New Launched:

D2eight (District 2)

Developer: CapitaLand
Property type: Shophouse
Total units: 28
Unit size: 531 – 735 sm per unit

Advertisement:
Dream Home Riverside

Developer: Nha Mo
Total units: 2,000 units (condos), 200 units (condotels)
Scale: six 25- floor blocks
Unit size: 56 – 75.12 sm (2 – 3 bedrooms)

Kingdom 101 (District 10)
Developer: Hoa Lam Corp.
Total units: 986 units (Condos only)
Scale: three 30-floor blocks
Unit size: 50 – 103 sm (1 – 3 bedrooms)
* Prices included VAT
Note: Selected newspapers include Dau Tu Bat Dong San, Thoi bao kinh te Vietnam, The gioi thong tin bat dong san, CafeF, Tap chi dau tu bat dong san, Vietnamnet, Thi truong Bat dong san & Tai san, Nguoi dua tin, Vnexpress
Interest rate for real estate loan increases
NLD
Increasing interest rate is necessary when real estate prices are increasing abnormally. Eximbank applied an interest rate of 11% for real estate loan from 2nd May. Another bank, Viet A, has a rate of 12.38%, exceptionally high, but demand remains high.
Valuation of lands and houses as collateral in suspecting area will be stricter. The valuated price is only 50% of the market one, and loans provided will only be up to 30-40% of the value, not the usual rate of 70- 80%.
Due to high demand, available credit for real state in many banks is currently limited. In Q1 2018, short-term credit only increased 2.6% while middle and long- term has increased 4.3% and account for 53.2% of the total outstanding loans. However, banks are required to keep the rate of short-term deposits for medium and long-term loans at 45% in 2018 and 40% in 2019. Central bank also increases risk ratio of real estate loan to 250% to ensure credit safety.

Auctioning 9 land plots in the center of Thu Thiem New Urban Area
Tuoi Tre
No.1 Area is a multi-function commercial center. The tallest towers are located along the boulevard and central square, with reducing height towards Saigon River and the central lake. Important buildings in No.1 Area includes exhibition center, museum; opera house and center of planning information. Relocation of religious establishments and land acquisition of Thu Thiem Primary School will be fastened to guarantee the construction of riverside roads and park completing on schedule.

Thu Thiem New Urban Area is located on the Thu Thiem peninsula (District 2, HCMC), opposite District 1. The project was approved in 1996, and Thu Thiem New Urban Area is expected to be a global financial and commercial center.

Vietnam's largest casino to open gates next year
Vietnam Investment Review
The 4-billion casino named Hoiana in Quang Nam includes stores, restaurants, golf courses, and water parks, spanning on a 1,000-ha site. The Suncity Group Holdings Ltd., VinaCaptal Group and Hong Kong based VMS each owns one-third of the project's stakes. First phase will be launched in 2019 with 140 card-tables and one golf course. The second one including water parks, golf course and a resort will be launched in 2023.
However, operators of casinos in Vietnam has reported losses or only modest profit in many years since opening. Last year, RIC owning the casino in Halong Bay reported losses of VND 127 billion, Haiphong International Tourist JVC owning Do Son Casino reported an average loss of VND 22 billion during 2007-2012, and Australia-based Donaco International Ltd. owning one in Lao Cai reported a profit of $23 million, less than 10% of revenue in 2016.
Long-delayed Metrocity to resume
Vietnam Investment Review
| | |
| --- | --- |
| | Land clearance, compensation and removal of power system from the site will finish in May 2018, and the land will be transferred to the developer. The project is expected to start in the third quarter of this year. The project will receive $189 million investment from GS E&C based in Korea, and located on a 350-ha site in Nha Be, HCMC. GS E&C planned to complete the basic infrastructure system and call on other sub-investors to develop smaller projects. GS Metrocity includes a financial center, shopping malls, high-end office, and apartment blocks. Key parts of the complex are the Linear urban area, the Centre Peninsula, Gateway City, and Park City. Construction will finish within the next 10 to 15 years. |
More than 5.5 million foreigners arrive in Vietnam in Jan-Apr
Vietnamnet
Vietnam welcomed more than 5.54 million foreign visitors in the first four months of 2018, a year-on-year rise of 29.5%. Major markets are Republic of Korea (up 67.3%), China (39.7%), Malaysia (16.3%), China's Taiwan (14.3%), Thailand (9.2%), Singapore (8%) and Japan (7%).
The number of European visitors rose by 12.9%, especially Italy (19.7%), Russia (13.4%), the UK (11.1%). Those of Africa, Americas, and Oceania are 22.5%, 13.4%, and 12.6%.
In April alone, there are 1.34 million international tourists, up 25.2% due to various such as the Vietnam International Travel Mart and Vietnam's Ethnic Culture Day in Hanoi, the tourism festival in Ho Chi Minh City, the Mon Asian Food Festival in Hanoi and Quang Ninh province, and the opening ceremony of the National Tourism Year 2018 in Quang Ninh.
Organize Bach Dang bridge with more than 7.000b in Quang Ninh province
VnExpress
| | |
| --- | --- |
| | On the morning of April 28, Quang Ninh province and investors organize the Bach Dang bridge, after more than 3 years of construction. The bridge is not only meant to develop the triangle economy of Hanoi – Hai Phong – Quang Ninh but also connect the historic Bach Dang river. Located on the Ha Long – Hai Phong highway, the bridge crosses the Bach Dang River, starting from Dong Hai 2 (Hai An District, Hai Phong) to Lien Vi Commune (Quang Yen Town, Quang Ninh Province). The bridge is 3.5 km long, 1.9 km wide, 25 m wide, with 4 lanes, the design speed is 100 km / h. Starting in January 2015, the project is expected to be completed by June 30. When the Ha Long-Haiphong expressway goes into use, the distance from Halong to Hanoi is reduced to 50 km, to 130 km; from Ha Long to Hai Phong only 25 km instead of 75 km as today. |
High-rise project by the West Lake rejected
Dan Tri News
The authorities of Hanoi have rejected the proposal to build a 36-storey hotel near the West Lake as it exceeds the permitted height in the area. According to Hanoi authorities, they appreciate the fact that Thang Loi JSC wants to upgrade the hotel to meet international standards and better exploit the location. "However, the proposed 36-storey building exceeds the permitted height and will not be allowed," written in the official document submitted by the Hanoi People's Committee.

Regarding the rumours about the proposal to build a city guest house on 584 Lac Long Quan Street, Hanoi People's Committee said it hadn't had any plan to invest in this location.
Frasers Property unit to acquire 75% stake in Vietnamese property firm for 409b dong
Business Times
A subsidiary of Frasers Property on Friday entered into a conditional share purchase agreement with Tran Thai Lands Company to acquire a 75 per cent stake in Vietnamese property firm Phu An Khang Real Estate Joint Stock Company (PAK). The unit – Frasers Property Investments (Vietnam) 1- is set to acquire the 24 million ordinary share stake in PAK for 408.6 billion dong (S$23.9 million).
HSBC: Vietnam should be cautious with the real estate market
CafeF
| | |
| --- | --- |
| | In its latest report on Vietnam, HSBC said real estate business occupies about 5 percent of the country's GDP and has contributed positively to GDP growth since 2013. However, continuing to rely on credit growth to boost business and consumption, real estate credit risk is an important issue Vietnam needs to keep an eye on. In 2018, the State Bank of Vietnam (SBV) set a credit growth target of 17%, lower than the level of 18.17% achieved in 2017. HSBC cited the fast growing real estate market in the late 2000s, partly due to speculation, resulting in real estate bubble burst in 2011. Implication is the explosion of bad loans, affecting the development of banks and the overall growth of the economy. With the current growth momentum, the bank warns Vietnam should be cautious with the real estate market. |
Vietnam attracts $8.06 billion in FDI in Jan-Apr
Vietnamnet
| | |
| --- | --- |
| | As of April 20, 2018, the country had 883 newly-licensed FDI projects, with total registered capital of US$3.55 billion and 303 projects registering to increase their capital by US$2.24 billion. As of April 20, 2018, the country had 883 newly-licensed FDI projects, with total registered capital of US$3.55 billion and 303 projects registering to increase their capital by US$2.24 billion. In the first four months of this year, foreign investors contributed capital and bought shares worth US$2.26 billion, a y-o-y surge of 67%. FDI projects in Vietnam disbursed US$5.1 billion during the first 4 months, a year-on-year increase of 6.3%, said the Ministry of Planning and Investment's Foreign Investment Agency (FIA). The FIA said foreign investors have invested in 17 industries and fields during January and April. Of this, the manufacturing and processing sector attracted the largest amount of FDI, with total registered capital of US$4.52 billion, accounting for 56.1% of the total investment. The real estate sector ranked the second in terms of FDI attraction, with total investment capital of US$807.5 million, accounting for 10 percent of the total. In the third place were the wholesale and retail sector, with total registered capital of US$779 million, accounting for 9.7% of the total. |
FOR MORE INFORMATION,CONTACT:
Dung Duong MRICS
Director
T +84 8 3824 6125
dung.duong@cbre.com
An Nguyen
Director
T +84 4 2220 0220
an.nguyen@cbre.com