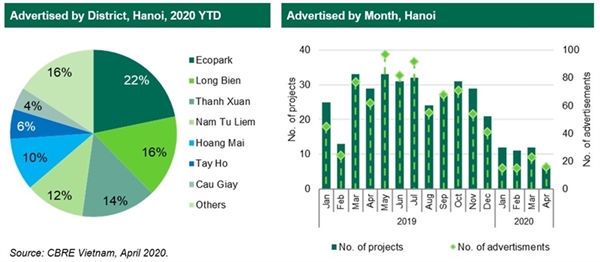 Advertisement:
Ecopark Sky Oasis (Van Giang District – Hung Yen)

Total units: 1,256 units
Scale: 18,247 sqm land area
Unit size: 29.2 – 96.14 sqm (1- 3 bedrooms)
Price*: from VND 26 million psm

TSG Lotus Long Bien ( Long Bien District)
Total units: 328 units
Scale: 3.898 sqm land area
Unit size: 71- 113sqm (1 – 3 bedrooms) & 198 -219 sqm (penthouse) & 376- 405 sqm (duplex)
Price*: from VND 25 million psm
* Prices included VAT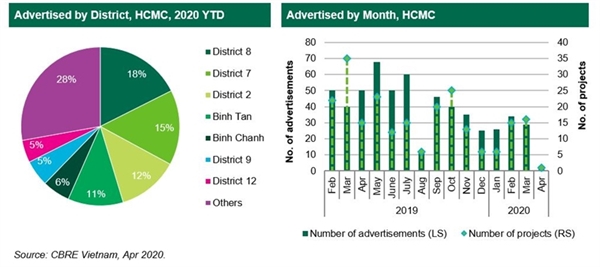 No New Launch
No New Advertisement:

* Prices included VAT
Note: Selected newspapers include Dau Tu Bat Dong San, Thoi bao kinh te Vietnam, The gioi thong tin bat dong san, CafeF, Tuoitre, Tap chi dau tu bat dong san, Vietnamnet, Thi truong Bat dong san & Tai san, Nguoi dua tin, VnExpress
Brighter prospects for $6 billion Saigon Peninsula property project
VIR

| | | |
| --- | --- | --- |
| | | Last week, the Ministry of Construction sent a proposal to Prime Minister Nguyen Xuan Phuc to officially approve the investment plan to set up this project, after investors have completed the necessary procedures. The Saigon Peninsula project was initiated in 2007 by Van Thinh Phat Holdings Group, a domestic developer which has many large-scale property projects in HCMC, to build large-scale infrastructure system and a modern urban area located in District 7 of HCMC. |
Ministry proposes to clear obstacles for intertwined state-owned lands
sggpnews

According to laws on the management and use of public properties, land use rights for public properties must be auctioned before allocation which affects the advancement of many projects. In response, the Ministry of Natural Resources and Environment has proposed an amendment Decree to suggest different treatments depending on whether the public land can be developed as a separate project.
If the intertwined areas cannot be developed as a separate project, the People's Committee in charge shall determine the land allocation; otherwise it will be determined by the Government.
Vietnam again named among top 10 remittance recipients in 2019
Hanoitimes

| | | |
| --- | --- | --- |
| | | Vietnam was the ninth largest remittance recipients globally with an inflow of US$17 billion in 2019, accounting for 6.5% of its GDP and slightly increasing from US$16 billion received in 2018, according to the World Bank's latest data. This was a third consecutive year that Vietnam remains in the top 10 ranking in terms of inbound remittance. The figure was US$13.8 billion in 2017 and US$15.9 billion in 2018. |
Economic zone seeks work visas for foreign experts
VnExpress

| | | |
| --- | --- | --- |
| | | Many businesses want the government to grant visas to foreign experts to work at the Dung Quat Economic Zone in central Vietnam. Senior officials of the Binh Son Refining and Petrochemical company located in the economic zone said Thursday they were seeking the government's approval to grant visas for 350 foreign experts in the coming months. From mid-May to August, a group of experts from Italy, Germany, France, the U.K., and Japan are scheduled to come to Vietnam to participate in maintenance work of the Dung Quat oil refinery, the country's first such facility. |
Da Nang reopens some commercial businesses, allows beach-going
Tuoitrenews

| | | |
| --- | --- | --- |
| | | The People's Committee of Da Nang has allowed beach-going activities, all accommodation businesses, and a number of four-wheeled commercial passenger vehicles to resume operations after weeks of suspension. Da Nang, which was previously a 'high-risk' city according to classification by the National Committee for novel coronavirus disease (COVID-19) Prevention and Control, has been demoted to a 'low-risk' locality, as per Prime Minister Nguyen Xuan Phuc's conclusion at a national teleconference on Wednesday. There have been only six infections in Da Nang so far, all of whom have recovered and exited the hospital, with no new case having been reported in the city for 30 days straight. |
Compensation plans for Metro Line 2 project sent to households
Vietnamnews

| | | |
| --- | --- | --- |
| | | District authorities are sending detailed compensation plans to households that must move to make way for the city's Metro Line No 2, which runs between Ben Thanh market in District 1 and Tham Luong Depot in District 12. According to the HCMC Urban Railway Management Board, no meeting will be organised with the households because of current social distancing measures. Twenty days after April 18, if households have any comments, a meeting will be organised to address issues. |
Five million Vietnamese workers lose jobs to COVID-19
VnExpress

The COVID-19 pandemic has cost nearly five million Vietnamese workers their jobs as of mid-April, bringing Q1 employment figures to a 10-year low.

Processing and manufacturing industries were most heavily impacted with 1.2 million jobs affected; followed by wholesale and retail, 1.1 million; plus accommodation and catering services, 740,000, according to General Statistics Office (GSO).
COVID-19 risk assessment indicators issued for tourism enterprises
Vietnamplus

Travel enterprises, tourist sites, hotels and lodging facilities such as homestays and Airbnb are required to follow the evaluation indicators to resume operation, according to the city's Department of Tourism.

The indicators for assessment of COVID-19 infection risk at lodging facilities are based on 10 factors, including health declarations of guests, checks of health and training workers on infection prevention, availability of hand sanitizer and disinfectant spray, ratio of workers and guests wearing facemasks, temporary checks of workers and guests, and safe physical distancing.
FOR MORE INFORMATION,CONTACT:
Dung Duong MRICS
Senior Director
T +84 286 284 7668
dung.duong@cbre.com
An Nguyen
Director
T +84 24 2220 0220
an.nguyen@cbre.com