CBRE Newspaper Updates on Residential Ads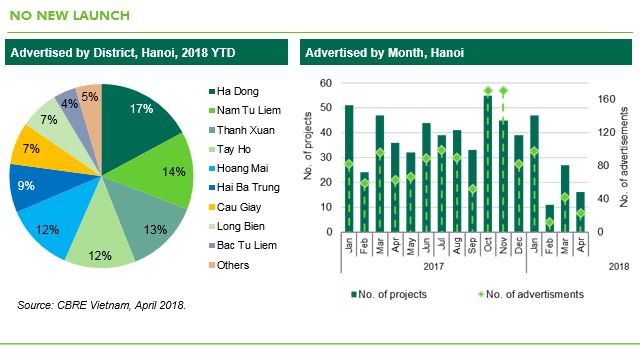 ​
Advertisement:

Sunshine City (Tay Ho district)

Total units: 2,368 units
Scale: 50,000 sm land area
Unit size: 74 – 111 sm (2 – 3 bedrooms)
Price*: from VND 30 million psm

TNR Sky Park (Cau Giay district)
Total units: 663 units
Scale: 113,909 sm land area
Unit size: 68 – 116 sm (2 – 3 bedrooms)
Price*: from VND 25 million psm
Total units: 1,500 units
Scale: 22,000 sm land area
Unit size: 60 – 106 sm (1 – 3 bedrooms)
Price*: from VND 33 million psm
TNR Goldseason (Thanh Xuan district)
Prices included VAT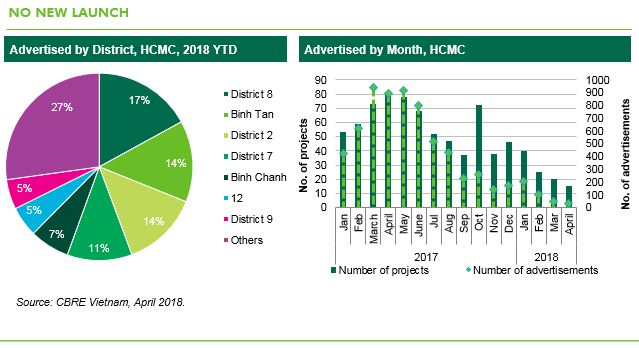 Advertisement:

De La Sol (District 4) – Alto

Developer: Capitaland
Total units: 482 (for condos only)
Floors: 23
Unit size: 60 – 93 sm (1 – 3 bedrooms)
Price*: from VND 68 million psm

Gem Riverside (District 2)
Developer: Dat Xanh Group
Total units: 3,175 (for condos only)
Scale: twelve 33-34-floor blocks
Unit size: 49.14 – 95 sm (1 – 3 bedrooms)
* Prices included VAT
Note: Selected newspapers include Dau Tu Bat Dong San, Thoi bao kinh te Vietnam, The gioi thong tin bat dong san, CafeF, Tap chi dau tu bat dong san, Vietnamnet, Thi truong Bat dong san & Tai san, Nguoi dua tin, Vnexpress
Vietnam's controversial proposed asset tax not on lawmakers' agenda before 2020: legislature
Tuoitre News
| | |
| --- | --- |
| | The lawmaking National Assembly has a full agenda to debate and will work to ratify other pieces of legislation from now until the end of 2019. The proposal on asset tax will not be officially consider until 2020. The proposal includes a 0.4% tax on houses with construction value of more than VND 700 million and on cares valued more than 1.5 billion, a 0.3 tax on inhabited land, and a high tax rate on unoccupied land to prevent real estate bubbles. This proposal is in the early stage of development and can be removed if facing considerable public opposition. The property tax will add up to VND 31 trillion to the state budget and is expected to compensate for the decrease on import tariffs resulting from upcoming free trade agreements. |
GIC-Backed Vinhomes Is Said to Target $2 Billion in Share Sale
Bloomberg
Singapore sovereign wealth fund GIC Pte agreed to buy Vinhomes shares and extend the company a debt-like instrument in a $1.3 billion deal ahead of the planned equity offering. GIC is spending about $850 million for a 7.1 percent stake valuing Vinhomes at about $12 billion. A $2 billion equity offering from Vinhomes would be the biggest first-time share sale in Vietnam. Vinhomes may start marketing the share sale around April 27. The offering will be stock sold by existing investors. Stock will be priced early next month and traded in mid-May. Final terms for the deal are not finalized, and will change according to investor feedback.
Vinhomes currently operates 10 projects, including 18,000 apartments, villas, and shophouses.
DBS and OCBC among lenders of $2.45 billion for Vietnam coal power plant
The Straits Times
| | |
| --- | --- |
| | DBS and OCBC are among a group of banks and lending agencies that have signed off on financing of about US$1.87 billion for a controversial coal-fired power station in Vietnam. The 1,200MW Nghi Son 2 power station in Tinh Gia district, Thanh Hoa province, is one of a number of large coal-fired power plants planned to meet Vietnam's energy needs. |
Japan's Scroll acquires nearly 27% of Vietnamese e-commerce firm Cat Dong
Deal Street Asia
| | |
| --- | --- |
| | Scroll Corporation has acquired a 26.9% stake in Cat Dong Trade and Service JSC, which owns e-commerce sites Cungmua.com and Nhommua.com, for an undisclosed sum. The stake sale is part of an agreement signed by the two companies to collaborate in the areas of e-commerce and tourism that will see Cat Dong sell Japanese products on its websites. Cat Dong today has over 3 million customers and partnerships with about 1,000 brands and suppliers around the world. In the future, Cat Dong will focus on more B2B offerings, taking cues from what Scroll has done in Japan. |
Korea's Lotte to build $884mn complex in Ho Chi Minh City this year
Tuoitre News
| | |
| --- | --- |
| | Lotte wants to construct an iconic tower in the Thu Thiem New Urban Area, the smart complex would boast a modern design and function with smart and cutting-edge technology. The developer will finish necessary procedures to be able to start the project on September 2. Covering an area of 7.45 hectares, the complex is projected to cost VND20.1 trillion ($884.4 million), excluding the cost for site clearance and compensation. The construction will take approximately 72 months to complete. |
Trung Luong-My Thuan Expressway to get funds for construction in May
Saigon Times
| | |
| --- | --- |
| | The project requires a total investment of nearly VND9.7 trillion, or some US$426 million, and the investor has secured VND1.5 trillion, with most of it for site clearance. The investors expect to conclude negotiations with lender banks by the middle of May, and credit agreements are expected to be signed prior to May 31 to secure capital for the project. |
Vietnam tightens control over cryptocurrencies after alleged $650 million scam
VnExpress
| | |
| --- | --- |
| | The State Bank of Vietnam has directed banks and payment organizations to remain vigilant and keep a watch over all cryptocurrency-related activities. The directive follows a cryptocurrency ponzi scheme operated by a Vietnamese IT firm that made headlines last week for allegedly scamming investors out of VND15 trillion ($650 million). Tax evasion, fraud and money laundering were cited as the reasons for the directive. Vietnam's financial and payment organizations are not allowed to provide cryptocurrency transaction services such as credit cards or currency conversion or transfer, the directive stated. The State Bank also told its branches to cooperate with government agencies to develop a legal framework to deal with the distribution and transaction of cryptocurrencies. |
Limit the construction of low-rise buildings in suburban Hanoi
VnEconomy
| | |
| --- | --- |
| | Local government in Hanoi and Ministry of Construction is required to study planning for new urban areas with synchronized technical and social infrastructure system in Dong Anh, Gia Lam, Yen Vien and Long Bien, and limit the construction of low-rise building to decrease population in the central from 1.26 million to 0.8 million people. Adjustments for local planning in Xuan Canh, Mai Lam, Dong Hoi, and Dong Anh are required to meet the plan of constructing National Exhibition Center and auxiliary area. Master Plan of the Capital, spanning over 3,344.6 sm, includes the the central urban area, 5 satellite cities, and other small towns, connecting by the belt road system and to the regional and national road system. The central urban area and five satellite cities is separated by green corridor which is up to 70% of natural land of the city. Based on the population projection of 3.7 million people by 2020, the urban construction land area is 45,300 ha. The target is 70m2 / person, and the non- civil land is 19,300 ha. |
Ha Noi: Planning four routes around Ha Dong International Hospital and AEON Mall Ha Dong
Cafeland
| | |
| --- | --- |
| | First route is 100 m long with road width of 23 m (2 lanes), dividing line width of 5 m, and sidewalk width of 12 m (total 2 sidewalks), starting from an urban area in Duong Noi, Ha Dong to route 70. Second route is 1,020 m long with road with 15 m (2 lanes), dividing line width of 3 m, and sidewalk width of 12 m (total 2 sidewalks), starting from route Le Trong Tan to the urban area Duong Noi. Fourth route is 435 m long with road with 15 m (2 lanes), dividing line width of 3 m, and sidewalk width of 12 m (total 2 sidewalks), starting from commercial land area in Duong Noi to the intersection with the second route. Fifth route is 240 m long with road with 15 m (2 lanes), and sidewalk width of 12 m (total 2 sidewalks), starting from the urban area in Duong Noi to the commercial land area. The hospital is expected to have an area of 7.1 ha and that of the mall is 9.5 ha by BIM Group. |
Government needs to clarify condotel business management
Cafeland
There are at least 3 conferences about condotel, the topic attracting many attentions from the government, companies and investors. The newest one is hold in Danang, one of the hotspot besides Khanh Hoa and Phu Quoc. Profitability commitment and dynamics of condotel are the main topics. There are 50 projects with over 10,000 apartments from mid to high end. Over 18,000 apartments is expected to launch in the next 2 years. To the end of 2019, real estate resort in main destinations will increase to 27,000 rooms.
Besides condotel business management, regulations regarding foreign-owner, payment, payment term, and tax collection are also under consideration. The draft law also adds more regulations regarding tourist accommodation and mixed-use multi-purpose buildings, and proposed mixed-use multi-purpose buildings to be compatible with planning and Land Law.
FOR MORE INFORMATION,CONTACT:
Dung Duong MRICS
Director
T +84 8 3824 6125
dung.duong@cbre.com
An Nguyen
Director
T +84 4 2220 0220
an.nguyen@cbre.com