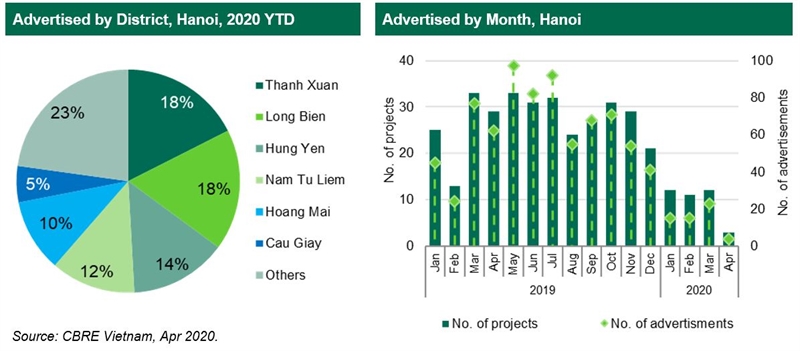 New launched:
Ecopark Sky Oasis (Van Giang District – Hung Yen)

Total units: 1,256 units
Scale: 18,247 sqm land area
Unit size: 29.2 – 96.14 sqm (1- 3 bedrooms)
Price*: from VND 26 million psm
Advertisement:
TNR Goldmark City (Bac Tu Liem District)

Total units: ~5,000 units
Scale: 113,996 sqm land area
Unit size: 68-161 sqm (2-4 bedrooms)
Price*: from VND 26 million psm


* Prices included VAT
No New Launch
No New Advertisement:


* Prices included VAT
Note: Selected newspapers include Dau Tu Bat Dong San, Thoi bao kinh te Vietnam, The gioi thong tin bat dong san, CafeF, Tuoitre, Tap chi dau tu bat dong san, Vietnamnet, Thi truong Bat dong san & Tai san, Nguoi dua tin, VnExpress
Timely support packages: not leaving anyone behind
VIR

The online meeting had set forth the "dual targets" of the government, authorised management agencies, and localities in the current context: giving priority to the fight against the coronavirus (COVID-19) outbreak while maintaining production, business, and ensuring social order and stability. When setting a dual task, it is important to clarify what task will hold the top priority to avoid confusion in implementation by policy execution units

.
HCMC leader expects to see services 'return to normal' in July
Tuoitrenews

Speaking at the meeting, Nhan requested that the city should prioritize policies to support and reduce difficulties faced by manufacturers and businesses, while trying to complete a set of COVID-19 safety guidelines for companies by the end of April to be put into practice in May.

The leader demanded a road map for gradually increasing the size of the city's service industry from May to July, targeting a full comeback of its tertiary sector in terms of scale after three months.
Airlines to increase flights from April 16
VIR

Vietnam Airlines will operate two flights a day on the route, while maintaining one flight daily on the routes between Da Nang and Hanoi/HCMC

Jetstar Pacific will also increase the frequency of its flights between the two biggest cities to one daily instead of four a week. The flights will be conducted in the form of code sharing with Vietnam Airlines.

Meanwhile, Vietjet Air plans to operate two daily flights between Hanoi and HCMC, one flight daily between Hanoi/HCMC and Da Nang

.
90 pct of tourist firms in HCMC suspend operations
VnExpress

| | | |
| --- | --- | --- |
| | | 90 percent of tourist firms in HCMC have suspended operations due to the new coronavirus pandemic slashing revenues. An estimated 20,000 tourism employees, or 70 percent of the total, will remain off work without pay until the disease is contained. Foreign tourist arrivals in the first quarter fell 42 percent year-on-year to 1.3 million, while related revenues fell 26 percent to VND25.6 trillion ($1.1 billion), the lowest since 2016. Revenues started falling in February and became severe in March when it fell 71 percent year-on-year to VND2.2 trillion ($94.83 million). |
| | | |
| --- | --- | --- |
| | | Blue and grey. These will be the colors of the trains to run on HCMC's first metro line whose first pictures have been released. The name of the line is painted in front, images released on Monday by the HCMC Management Authority for Urban Railways (MAUR) show. The aluminum alloy train will have three cars, each 19.5 meters long, and can travel at up to 110 kilometers per hour on elevated stretches and 80 kph underground. It can carry up 930 passengers, 147 of them seated. The train could be lengthened to up to six cars. Japanese contractor Hitachi is conducting the final safety checks on the train before delivering it to the city this year. |
Cash-strapped local businesses hunting for foreign M&A deals
VIR

The coronavirus crisis is expected to create mergers and acquisitions opportunities for foreign dealmakers in the coming months as cash-starved Vietnamese companies seek funding to overcome their difficulties.

In the first quarter of 2020, the whole country saw 2,523 instances of capital contribution and share purchases by foreign investors with a total value of capital contributions reaching $2 billion, up 53 per cent against the same period last year and capturing nearly 34 per cent of the total registered capital, according to data by the Foreign Investment Agency under the Ministry of Planning and Investment

.
E-commerce companies offer coronavirus discounts
VnExpress

| | | |
| --- | --- | --- |
| | | E-commerce players are offering a variety of delivery discounts to boost sales amid coronavirus travel restrictions. Lazada has launched a two-hour delivery service on fresh products including meat, milk and vegetables in HCMC. The company plans to expand the campaign to Hanoi and other localities soon. Lazada said it ensures that suppliers trading in fresh food products have the requisite certifications that govern food quality and nutritional content. The firm also works with these providers to pack and preserve the goods. Tiki this month offers free delivery within two hours of essential products like consumer goods and food for orders of VND250,000 ($10.7) or more in Hanoi and HCMC. The company plans set to spend VND39 billion ($1.67 million) on the campaign which it expects will bring around one million orders. |
Social housing projects wait for incentives
VIR

Demand for low-priced social houses and houses for long-term rent was high but incentive policies have not yet encouraged investors.

At present, dozens of low-priced social housing projects in Hanoi and Ho Chi Minh City had not yet been given preferential loans from the Government.
FOR MORE INFORMATION,CONTACT:
Dung Duong MRICS
Senior Director
T +84 286 284 7668
dung.duong@cbre.com
An Nguyen
Director
T +84 24 2220 0220
an.nguyen@cbre.com