CBRE Newspaper Updates on Residential Ads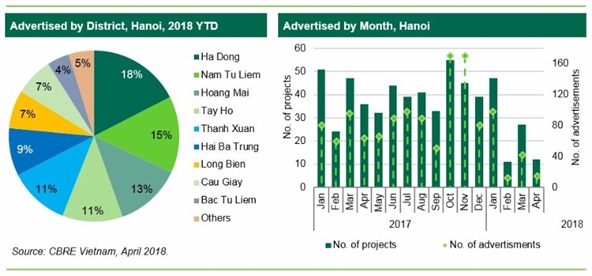 ​
No New Launch
Advertisement:

TNR Goldseason (Thanh Xuan district)

Total units: 1,500 units
Scale: 22,000 sm land area
Unit size: 60 – 106 sm (1 – 3 bedrooms)
Price*: from VND 33 million psm

TNR Sky Park (Cau Giay district)
Total units: 663 units
Scale: 113,909 sm land area
Unit size: 67,97 – 115,96 sm (2 – 3 bedrooms)
Price*: from VND 24 million psm
Total units: 232 units
Scale: 2,500 sm land area
Unit size: 60 – 130 sm (1 – 3 bedrooms)
Price*: from VND 28 million psm
Total units: 527 units
Scale: 5,340 sm land area
Unit size: 45 – 98 sm (2 – 3 bedrooms)
Price*: from VND 25.5 million psm
Bohemia Residence (Thanh Xuan district)
Eco Dream (Thanh Xuan district)
Prices included VAT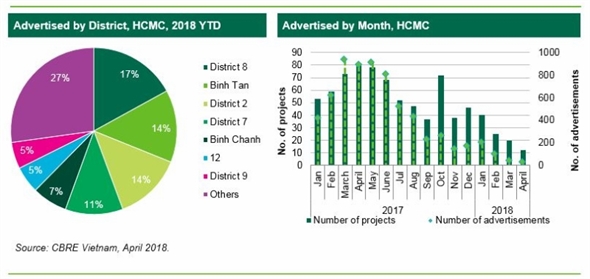 No New Launch
Advertisement:

Q7 Saigon Riverside (District 7)

Developer: Hung Thinh
Total units: 3,580 units (Condos only)
Scale: five 34-floor blocks
Unit size: 53.2 – 86.68 sm (1 – 3 bedrooms)

Gem Riverside (District 2)
Developer: Dat Xanh
Total units: 3,175 units (Condos only)
Scale: twelve 34-floor blocks
Unit size: 50 – 120 sm (1 – 3 bedrooms)
* Prices included VAT
Note: Selected newspapers include Dau Tu Bat Dong San, Thoi bao kinh te Vietnam, The gioi thong tin bat dong san, CafeF, Tap chi dau tu bat dong san, Vietnamnet, Thi truong Bat dong san & Tai san, Nguoi dua tin, Vnexpress
FLC Group to open first FLC Shopping Center in July
Vneconomictimes
| | |
| --- | --- |
| | Located at FLC Twin Towers, 265 Cau Giay Street, Cau Giay district, Hanoi, the shopping center has a prime location with easy access to arterial roads and is nearby a station on the upcoming Metro Line No. 2. The FLC Shopping Center includes six floors with a total floor space of up to 25,000 sm. The mixed-use FLC Twin Towers sits on 163,188 sm with two towers – a 50-story residential tower and a 38-story office tower – and a five-floor retail podium. It's expected to go into full operations in June. |
Vietnam's realty major Vingroup forays into pharma sector
Dealstreetasia
| | |
| --- | --- |
| | The Vinfa project has a total investment capital of VND2.2 trillion (US$96.8 million), expected to come into operation in the third quarter this year. In a statement, Vingroup said, it intends to produce medicine derived from herbs in Vietnam. In addition, Vinfa will also target production of vaccines and medical devices for exports. "In addition to exploiting the precious resources of the nation, Vinfa will also promote cooperation with partners in US, Europe, Australia for technology transfer and import of raw materials," the group said in the statement. |
Ministry of Construction requires local governments to control the rising price in landed property
CafeF
| | |
| --- | --- |
| | Local governments in Quang Ninh, Khanh Hoa, and Kien Giang are required to investigate and uncover reasons of this increase, punish any violations, implement appropriate solutions to stabilize the markets, and inform people about the housing, urban infrastructure development, and economic development plans to clarify information and suppress speculations in real estate. |
Vietnamese e-commerce stands to benefit from greater competition
VIR
| | |
| --- | --- |
| | Economists predict that the value of the Vietnamese e-commerce market will increase from 2016's $1.6 billion to US$3.7 billion in 2020. Also, the potential to develop e-commerce in Vietnam remains huge, with high rates of young population with easier access to new technology and stable GDP growth. Specifically, the number of Vietnamese internet users is over 50 million, accounting for 53% of the total population, with 46 million using social networks (48 per cent of the population). |
ADB forecasts 2018 growth of 7.1%
Vneconomictimes
| | |
| --- | --- |
| | Vietnam is set to continue its strong economic performance, with GDP growth forecast to rise to 7.1% this year before easing back to 6.8% in 2019, according to a report released by the Asian Development Bank (ADB) on April 11. It also expects CPI to reach 3.7 per cent this year and 4 per cent in 2019, as strong domestic demand and high bank lending are only partly offset by stable domestic food and transportation costs and smaller increases in administered prices. |
MGallery by Sofitel appears in Ha Long
Vneconomy
| | |
| --- | --- |
| | Ha Long shows a considerable potential as a world heritage site, and with unique characteristics. Phoenix Legend Ha Long Bay Villas & Hotel is chosen to brand MGallery by Sofitel. The project features Vietnamese culture with modern and dedicate design. There are two 20-floor buildings epitomizing the picture of a phoenix landing on the hill. The project includes a hotel with 220 rooms, and 200 villas. Phoenix Legend Ha Long Bay Villas and Hotel is expected to be the new representative of real estate resort in Ha Long. |
23 ha new urban area of Lideco in the center of Ha Long
CafeF
| | |
| --- | --- |
| | The project includes facilities such as park, schools, and amusement parks. The project is expected to have an investment of 1,000 billion VND, of which the investment in infrastructure is 445 billion VND. The urban area will consist of townhouses, villas, and shophouses with area ranging from 80-100 sm, and the highest height of 5 floor. The project started on 6/3/2018 and is expected to complete in 2019. Besides, Lideco also invests on a condominium project in central Ha Long. The investment is about 1,200 billion VND with two 31-floor buildings including 884 apartments with area from 62.8 – 92.1 sm. The handover is expected to be at the end of this year. |
Pop-ups leading way for Dickies Vietnam in HCMC
Insideretail
| | |
| --- | --- |
| | Dickies Vietnam is planning to open its first HCMC flagship store. Dickies arrived in Vietnam in November under distribution deal between Son Kim Fashion and Williamson-Dickie, with a flagship store being opened at Vincom Royal City in Hanoi. The group plans to open 30 Dickies stores in five years. |
T&T Group to rebuild Hang Day stadium from $307 million
VIR
| | |
| --- | --- |
| | Hang Day Stadium in Hanoi's Dong Da district will be rebuilt under a deal signed by Vietnam's T&T Group, which manages the stadium, and French firm Bouygues Construction on March 27. The project will start at the end of the year with the estimated cost of $307 million, with T&T as the main investor. On the trip to France, T&T Group signed a memorandum of understanding with Bouygues Construction to construct 2 big projects in Vietnam. The first is the metro line connecting Hanoi city centre with Son Tay town with the estimated length of 31.1 kilometres and the estimated cost of $1.7 billion. The other project is the drastic transformation of Hang Day Stadium in the centre of Hanoi, which will cost $307 million. |
Sterling and Wilson plans 300 MW solar projects in Vietnam
Dealstreetasia
India-based solar EPC firm Sterling and Wilson has announced its plan to construct 300 MW of solar photovoltaic plants in Vietnam by June 2019 with an expected total investment of $250 million. In a statement, Sterling and Wilson said that it is in advanced discussions with local leading developers. Once constructed, these projects will generate 270 million units annually and reduce CO2 emissions of 250,000 tons per annum. The solar EPC firm has plans to generate employment for nearly 600-700 people during construction and 50 people during the maintenance phase of 20 years.
Berjaya transfer project half a billion dollars
Vnexpress
A domestic real estate group has acquired 97.7% stake in Berjaya Vietnam International University Ltd from Malaysian partners with a total transfer fee of VND11,748 billion (US$ 500 million). Under the plan, the project is about 925 hectares, divided into seven functional zones. The three major areas occupy the largest area is the international university village, the financial-administrative center and housing.
FOR MORE INFORMATION,CONTACT:
Dung Duong MRICS
Director
T +84 8 3824 6125
dung.duong@cbre.com
An Nguyen
Director
T +84 4 2220 0220
an.nguyen@cbre.com