CBRE Newspaper Updates on Residential Ads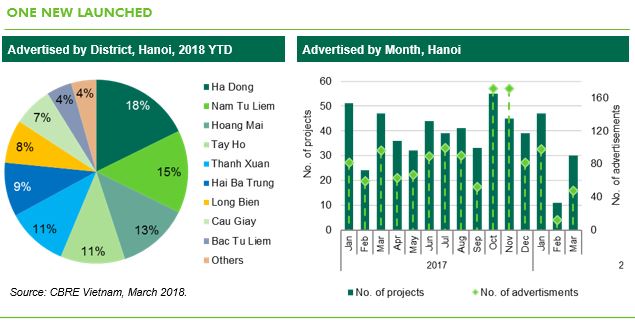 ​
One New Launched:

The Sun Me Tri (Nam Tu Lien district)

Total units: 270 units
Scale: 2,400 sm land area
Unit size: 65.7 – 116.2 sm (1 – 3 bedrooms)
Price*: from VND 29 million psm

Advertisement:
Hateco Apollo (Nam Tu Lien district)

Total units: 1,300 units
Scale: 34,812 sm land area
Unit size: 50 – 90 sm (1 – 3 bedrooms)
Price*: from VND 18 million psm

Sunshine City (Tay Ho district)
Total units: 2,368 units
Scale: 21,702 sm land area
Unit size: 76 – 114 sm (2 – 3 bedrooms)
Price*: from 32.6 million/sm
Prices included VAT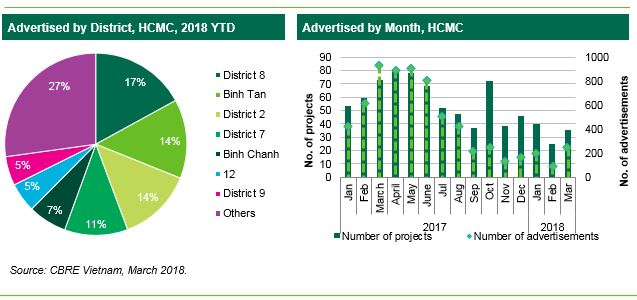 One New Launched:

West Intela (District 8)

Developer: LDG Group
Total units: 238 (for condos only)
Scale: one 21-floor block
Unit size: 64 – 85 ( 1 – 3 bedrooms)

Advertisement:
Carillon 7 (Tan Phu District)

Total units: 625 (for condos only)
Scale: one 27-floor block
Unit size: 45.27 – 105.11 sm (1 – 3 bedrooms)
Price*: from VND 1.8 billion/2BRs

Gem Riverside (District 2)
Total units: 3,175 (for condos only)
Scale: twelve 33-34-floor blocks
Unit size: 49.14 – 95 sm (1 – 3 bedrooms)
* Prices included VAT
Note: Selected newspapers include Dau Tu Bat Dong San, Thoi bao kinh te Vietnam, The gioi thong tin bat dong san, CafeF, Tap chi dau tu bat dong san, Vietnamnet, Thi truong Bat dong san & Tai san, Nguoi dua tin, Vnexpress
HCMC to remove ten ports along Saigon River, replaced by high-rise buildings
Dan Tri News
| | |
| --- | --- |
| | According to the Ministry of Transport, to facilitate urbanisation, 10 ports located along the Saigon River will be removed. The affected ports are Ba Son Shipping Plant, Nha Rong-Khanh Hoi Port, Tan Thuan 2, Bong Sen, special port for vegetables, Bien Dong Port, Tan Thuan Dong Port, Ben Nghe Port, Logistic Development JSC, and ELF Saigon. Tan Thuan Port will be moved to Hiep Phuoc of Nha Be district in order to provide land area to build the fourth Thu Thiem Bridge. By 2020, the total cargo transported via this southeastern group of ports would be more than 238 million tonnes. This number will reach 317million tonnes by 2025 and 358 million by 2030. |
Third tallest tower in HCMC put up for auction
The Saigon Times
The sale of the building at 34 Ton Duc Thang Street, District 1 is to settle bad debt totaling VND7 trillion (US$306.9 million). This is the biggest settlement of bad debt since a National Assembly resolution on settlement of bad debt took effect in mid-August last year. Those interested can sign up for the auction from today to April 10. Saigon One Tower, which is more than 195 meters high, had been invested some VND5 trillion, with M&C holding a stake of 49%, Saigontourist 30%, and Dong A Bank, Phu Nhuan Jewelry JSC and others the remainder.
Vietnam: VinaCapital invests $10m in real estate broker CenLand
Deal Street Asia
| | |
| --- | --- |
| | VinaCapital's flagship fund Vietnam Opportunity Fund (VOF) has picked up a minority stake in real estate brokerage firm CenLand for $10 million. The terms of investment include downside protections and performance commitments typical of VOF private equity deals, as well as a commitment to list by the third quarter of 2018. CenLand is one of the top 5 real estate brokerage companies in Vietnam. The company's revenue reached $48 million in 2017 while profit after tax stood at $11 million. This year, CenLand expects revenue to rise to $61 million on the back of forecasted sales of more than 16,000 units in 71 projects throughout the country. |
Japan's Mazda opens largest Southeast Asia factory in Vietnam
Tuoitre News
| | |
| --- | --- |
| | The factory is the result of cooperation between Mazda and local automaker Truong Hai Auto Corporation (Thaco), according to which the latter will produce Mazda cars for local sales and exports to regional markets. Located in Chu Lai Open Economic Zone in Quang Nam Province, the factory is Mazda's biggest and most modern in Southeast Asia capable of producing cars of Japan-made quality. The Thaco-Mazda factory in Quang Nam can produce 100,000 cars a year upon completion, at a cost of VND12 trillion (US$526.8 million). |
Vietnamese stock market breaks 11-year record
VnExpress
Real estate firm Vingroup JSC was the biggest contributor to the main index's gain.
Vietnam shares scaled a record high on Monday on the back of gains in financials and real estate stocks, while most other Southeast Asian markets started April on a sombre note. The benchmark Vietnam index rose as much as 1.1 percent to an all-time high of 1,187.55, and has risen more than 20 percent so far this year following a 48 percent gain last year.
The interest rate for buying social housing is 4.8% per annum
VnExpress
Prime Minister Nguyen Xuan Phuc has recently signed a decision on interest rates for preferential loans for social housing at the Bank for Social Policy. Accordingly, the borrowers of social housing enjoy a preferential interest rate of 4.8% per year, equivalent to 0.4% per month.
Interest at the Policy Bank is 0.2% less than in commercial banks. However, if the debt is overdue, the borrower will pay interest at 130% interest on the loan.
TTC Land jumps into industrial zone segment
VIR
TTC Land will expand its operations into resort, commercial-rental, and industrial zone (IZ) real estate.
TTC Land will accelerate the construction of 2 commercial-rental real estate projects, namely TTC Plaza Binh Thanh in HCMC and TTC Plaza Duc Trong in Lam Dong province, in order to take them into operation soon. Besides, this year, the company will develop 2 more projects, namely TTC Plaza Danang and TTC Plaza Haiphong. Besides, it will implement the construction of a 305-hectare resort complex in Phu Quoc. Additionally, TTC Land will develop other IZ projects after the acquisition of the 1,002-hectare Thanh Thanh Cong IZ in Tay Ninh province and the 53-hectare Tan Kim IZ in 2017. Both of these IZ are located in the southern key economic zone and have an occupancy rate of 60%.
Hoa Lac High Tech Park welcomes nearly 1,500 billion VND from new investors
CafeF
ITERA Software Research and Development Center with an area of 3.86 hectares belongs to the Software Park of Hoa Lac Hi-Tech Park. Construction period from 2018 to 2023 with total investment capital is 1.479,5 billion. After completion, the project will attract nearly 6,000 labors in the field of information technology in general and software in particular.
With the ITERA project, investors aim to build a high-tech complex to manufacture, supply, support and promote the use of high-tech software in regulatory agencies and businesses.

Hateco signed a comprehensive cooperation agreement with Vietinbank
CafeF
| | |
| --- | --- |
| | In order to bring into full play the strengths of the two sides in the fields of operation and business, aiming at establishing a stable and growing strategic relationship, VietinBank and Hateco formally signed the Comprehensive Cooperation Agreement 3/24/2017 in Hanoi. Through its sponsorship, credit, joint venture and joint venture activities, VietinBank and Hateco will support each other to expand and develop their business to maximize the potential of the market, maximize their advantage. of the two parties on the basis of compliance with the law and the capacity of each party. |
Vinh Phuc Real Estate increasingly attracts investors
VnEconomy
| | |
| --- | --- |
| | The location is just 50km from Hanoi city center, 25km from Noi Bai International Airport. Vinh Phuc is also home to a number of major traffic hubs including National Highway No.2, Hanoi Railway – Lao Cai, National Road 5, Road 18 … help easily connect to the famous tourist destination. Moreover, in 2018, the province has attracted an additional $ 18 million from FDI projects, of which 278 FDI projects and 690 DDI projects have been in force (as of March 2018). With many potential, real estate Vinh Phuc achieved growth with the outstanding projects: An Phu Residence (Vĩnh Yên province), VCI Mountain View, TMS Grand City (Phuc Yen) … |
FOR MORE INFORMATION,CONTACT:
Dung Duong MRICS
Director
T +84 8 3824 6125
dung.duong@cbre.com
An Nguyen
Director
T +84 4 2220 0220
an.nguyen@cbre.com