CBRE Newspaper Updates on Residential Ads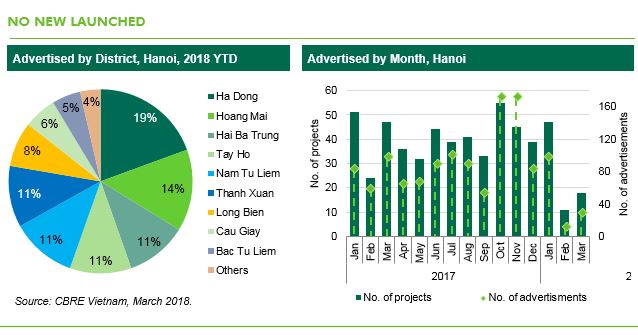 ​
Advertisement

Manhattan Tower (Thanh Xuan district)

Total units: 327 units
Scale: 3,948 sm land area
Unit size: 68.5 – 118.4 sm (2 – 3 bedrooms)
Price*: from VND 30 million psm

Eco Lake View (Hoang Mai district)
Total units: 1,218 units
Scale: 38,609 sm land area
Unit size: 66 – 106 sm (2 – 3 bedrooms)
Price*: from VND 22 million psm
Total units: 1,475 units
Scale: 22,000 sm land area
Unit size: 60 – 106 sm (2 – 3 bedrooms)
Price*: from VND 30 million psm​
TNR GoldSeason (Thanh Xuan district)
Prices included VAT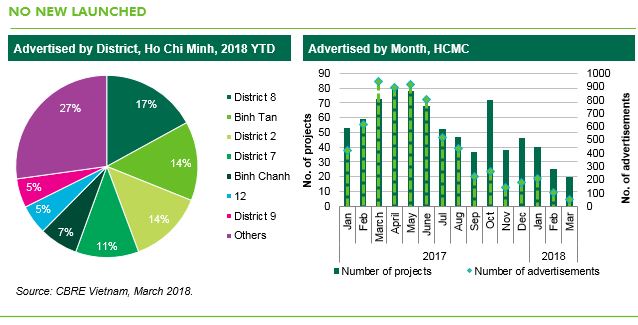 Advertisements:

Emerald Precinct (Tan Phu District)

Developer: Gamuda Land
Total units: 2,122 (for condos only)
Scale: six 15-floor blocks
Unit size: 49 – 105 ( 1 – 3 bedrooms)

Carillon 7 (Tan Phu District)
Total units: 625 (for condos only)
Scale: one 27-floor block
Unit size: 45.27 – 105.11 sm (1 – 3 bedrooms)
Price*: from VND 1.8 billion/2BRs
Total units: 3,175 (for condos only)
Scale: twelve 33-34-floor blocks
Unit size: 49.14 – 95 sm (1 – 3 bedrooms)
Gem Riverside (District 2)
* Prices included VAT
Note: Selected newspapers include Dau Tu Bat Dong San, Thoi bao kinh te Vietnam, The gioi thong tin bat dong san, CafeF, Tap chi dau tu bat dong san, Vietnamnet, Thi truong Bat dong san & Tai san, Nguoi dua tin, Vnexpress
VinaCapital invests $10m in Vietnamese realty firm Ricons
Deal Street Asia
| | |
| --- | --- |
| | VinaCapital has invested $10 million in Ricons Construction Investment JSC, a subsidiary of the country's leading developer Cotec Construction Joint Stock Company (CotecCons). "This investment is consistent with our strategy of investing in companies benefiting from strong domestic growth," a representative from VinaCapital told DEALSTREETASIA in an interaction. The investment in Ricons was made through its London Stock Exchange-listed Vietnam Opportunity Fund (VOF). |
Keppel Land consolidates ownership of Saigon Sports City
Business Times
| | |
| --- | --- |
| | Keppel Corp. bought the remaining 10% stake in Jencity Limited and owned 100% in Saigon Sports City for approximately $11.4 million. Saigon Sports City is a 64 ha township in District 2, HCMC, Vietnam. The development cost is planned to be more than $500 million. The township will consist of approximately 4,300 premium homes, a waterfront boulevard, an open public plaza, and a one-stop lifestyle hub with facilities for sports, entertainment, shopping and dining. The first phase includes 90,000 sm gross floor area of commercial space and 1220 homes, of which 620 units will launch in the second half of this year. |
Japanese Genesia Ventures leads $2.5m funding round in Vietnam's Luxstay
Deal Street Asia
| | |
| --- | --- |
| | Japanese early stage investor Genesia Ventures has led a $2.5 million Pre-series A funding round in Vietnam's Airbnb-like startup Luxstay. Founders Capital, Y1 Ventures and two other investors also joined the round. In a statement, Luxstay said, the objective of this fundraising stage is to accelerate development and to successfully raise the next big round in 2018. "With the capital raised in this round, Luxstay will focus on technology and marketing development, building up more supporting programs for hosts who are business partners of Luxstay," said the firm's representative. This year, Luxstay is looking at raising a larger investment of about $10–20 million in the next round to grow scale. |
Hanoi approves the development plan of industrial cluster
Hanoi Times
| | |
| --- | --- |
| | Chairman of Hanoi People`s Committee Nguyen Duc Chung has recently signed Decision No. 1292 / QD-UBND approving the development master plan of the City`s industrial cluster to 2020 with a vision to 2030. Under the Decision, the planning of Hanoi's industrial cluster development to 2020, with a vision to 2030 including 159 industrial clusters totaling about 3,204.31 ha. On the location and distribution of the industrial cluster network, in the north, Soc Son, Me Linh, Dong Anh, Long Bien and Gia Lam districts will strengthen regional links and two economic corridors; associated with economic corridor of Con Minh – Hanoi – Hai Phong. In the south, Thuong Tin and Phu Xuyen districts will prioritize the development of bio-industries for agriculture (high-tech agriculture); to develop textile and garment supporting industries such as footwear, mechanical engineering, electronics and informatics, etc. |
Logistics centers to be taken shape in HCMC
Vietnam Plus
| | |
| --- | --- |
| | The logistics center in southern metropolis HCMC will be located in production areas or near seaports and operate as ports, container depots, and container freight stations. This is part of the plan to reduce logistic costs in HCMC. A seminar on March 20 was organized to discuss the development of logistics services with approximately 100 participated firms. The logistics sector in HCMC in 2017 reached 91.541 trillion VND (4.03 billion USD), 8.6% of GRDP, and 14.8% of the service sector. This is the second most important industry. Compared with 2016, it had grown 10.84%. In 2016, Vietnam ranked 64th out of 160 worldly, and ranked 4th in ASEAN. Nevertheless, Vietnamese firms mainly operate in domestic services and limitedly in international ones. |
Sapa status upgrade creates opportunities for property investors
VOV
| | |
| --- | --- |
| | No.642/QD-UBND in 2016 to extend the 888ha site of Sapa's central area, upgrading the entire area of Sapa town to 5,525 hectares. By 2030, Sapa's population will reach 74,000 people, construction land will be about 1,500ha. Additionally, the provincial authority has also spent hundreds of millions dollars investing and upgrading Sapa's transport infrastructure, particularly the VND2.518-trillion ($114.4 million), 29.2km Lao Cai-Sapa Expressway that will help shorten the travel time to and from Hanoi to only four hours (from the current six hours). |
EuroCham: Business environment in Vietnam has improved significantly
VnExpress
EuroCham has just published the Whitebook 2018 which evaluates the investment and business environment according to corporate members. The Whitebook 2018 apprieciated the role of government in this improvement. In 2017, local governments made more than 5,000 reforms to help SME participate the market, simplifying administration procedures and removing business conditions in Investment Law. Especially, Ministry of Industry and Trade has eliminated 675 conditions, 55.5% of the total and restructure Energy Department.
However, Vietnam still need to focus on some fundamental areas, higher education and innovation, and the most three concerning factors are capital access, low-qualitied workers and corruption.
For Business Climate Index, Vietnam scored 77 in Q2 2017, equal Q1 2016, but still lower than the peak of 86 in Q3 2016.
Vietnam's economy heavily relies on credit, says expert
The Saigon Times
In order to lower lending rates, the State Bank of Vietnam has to increase recapitalizing rates, scales up the ratio of lending to deposit, and also prevent inflation. Last year, interest rates declined and is expected to reduce slightly or remain. Financial restructuring is recommended for enterprise to reduces borrowing.
Economic growth is predicted to be 7.1% in Q1 2018. The government should focus on creating a transparent legal environment and gaining trust.The exchange rates will be stable this year. Despite a high inflation pressure, it is unlikely that inflation will be out of control. As dollar interest rate increases, stabilizing exchange rates and promoting domestic currency deposits are of vital important.
Back to top
Central bank enhances supervision
Bizhub
| | |
| --- | --- |
| | Under Circular 04/2018/NHNN-TT, which will replace Circular 08/2017/TT-NHNN from July 1 this year, the SBV Governor stipulated orders and procedures for banking supervision, aimed at minimising the weakness of credit institutions and contributing to restricting risks to the banking system. The new circular is also expected to help Vietn am's regulations in the banking industry to gradually match international rules. |
Wínk Hotels to feature Toong co-working space facilities
The Saigon Times
| | |
| --- | --- |
| | Toong has partnered with Indochina Vanguard to locate its co-working space facilities into Wink Hotel, which is scheduled to open in Q4 2019. The startup hopes to reform the way business centers operate by providing a fashionable, inspirational and modern co-working space. Wink Hotels, projects by Indochina Vanguard, expect to redefine affordable luxury in Vietnam and Indochina. They feature the incorporation of modern functionality and traditional Vietnamese design. 20 Wink Hotels will be rolled out in Vietnam and Indochina over the next five years, and is expected to attract the new age of travelers and entrepreneurs. The intersection of these two communities will be beneficial for both companies. |
FOR MORE INFORMATION,CONTACT:
Dung Duong MRICS
Director
T +84 8 3824 6125
dung.duong@cbre.com
An Nguyen
Director
T +84 4 2220 0220
an.nguyen@cbre.com