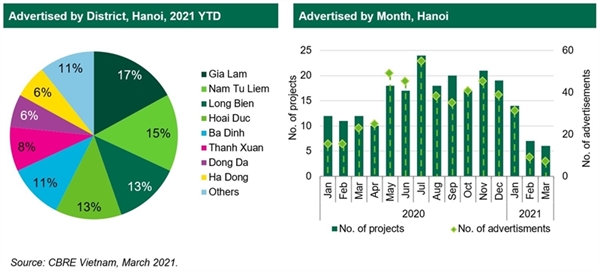 No New Launch.

Advertisement

Imperia Smart City – Nam Tu Liem District

Total units: 3,922 units
Scale: 23,310 sqm
Unit size: 28 – 76 sm (1-3 bedroom)
Price*: from VND 38 million psm

Vinhomes Wonder Park – Dan Phuong District

Scale: 133 ha
Total units:

2 Apartment Buildings
2,356 units (Villas, Townhouse & Shophouse)

FLC Premier Parc – Ha Dong District

Total units: 693 units
Scale: 64,077 sqm
Unit size:

82 – 126 sqm (Villa)
90 – 154 sqm (Shophouse)
106 – 132 sqm (Detached Villa)
* Prices included VAT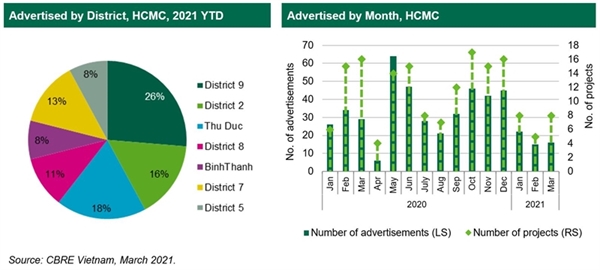 No New Launch

Advertisement

Lumière Riverside (District 2)

Developer: Masterise Homes
Total units: 4 towers
Unit size: 1 – 4 bedrooms, Shophouse, Duplex, Penthouse

Masteri Centre Point (District 9)

Developer: Masterise Homes
Total units: 10 towers
Unit size: 1 – 4 bedrooms

King Crown Infinity (Thu Duc District)

Developer: Gia Khang
Total units: 2,000 units
Unit size: 53.8 – 102.8 sqm
* Prices included VAT
Note: Selected newspapers include Dau Tu Bat Dong San, Thoi bao kinh te Vietnam, The gioi thong tin bat dong san, CafeF, Tuoitre, Tap chi dau tu bat dong san, Vietnamnet, Thi truong Bat dong san & Tai san, Nguoi dua tin, VnExpress
HCMC needs US$4.17 billion for 15 key transport projects
SGGP

| | | HCMC needs VND96 trillion (US$4.17 billion) to implement 15 key transport projects, according to the municipal Transport Department. Of the figure, over VND31.1 trillion will be sourced by the city's budget and the remainder will come from public-private partnerships and other sources. The projects include the construction of Can Gio and Thu Thiem bridges, the expansion of National Highways 1 and 13, and elevated roads No.1 and No.5, among others. |
| --- | --- | --- |
International organizations forecast strong growth for Vietnam in 2021
Vietnamplus

| | | Many international organizations have forecast robust economic recovery for Vietnam in 2021. The International Monetary Fund (IMF) expects Vietnam's economy to grow 6.5 percent in 2021 despite some economic scarring. In its 2020 Article IV Consultation report with Vietnam, the IMF said the country's growth is projected to strengthen to 6.5 percent, as normalisation of economic activity continues, businesses recover, and private consumption and business investment rebound. |
| --- | --- | --- |
Public investment disbursement rises 10.6% in first two months
Nhandan

Almost VND40.9 trillion (US$1.77 billion) of public investment was disbursed in the first two months of 2021, equivalent to 9% of the year's plan – the highest level compared to the same period of the last five years.

According to the General Department of Statistics (GSO), the disbursed sum went up 10.6% year-on-year, with the disbursement of centrally managed capital reaching VND5.6 trillion (US$242.5 million), or 7.2% of the set target and up 13.6%.

The Ministry of Construction reported the highest disbursement rate, meeting 10.2% of the year's plan, followed by the Ministry of Health with 9.4% and the Ministry of Natural Resources and Environment with 9.1%.
Vietnam to keep inflation at 3 pct in 2021: HSBC
VnExpress

| | | While inflation rose to an eight-year high. Vietnam's consumer price index (CPI) shot up by 1.52 percent month-on-month in Feb. Analysts attributed the hike to the increased food prices and transport costs during the Lunar New Year (Tet) holidays and the surge in power tariffs as Vietnam Electricity (EVN) ended its electricity subsidy in January. |
| --- | --- | --- |
Aviation industry has to cut staff to survive
Vietnamnews

| | | Apart from cutting costs and reducing salaries, many airlines have had to reduce their workforce in the difficult context of the COVID-19 pandemic. The orders to restrict flights or social distancing to prevent the spread of the COVID-19 pandemic caused many international and domestic routes to close. The tourism industry is frozen and the demand for passenger transportation declined, causing severe difficulties for the aviation market. After the first reports of the virus, Vietnamese airlines took the initiative and optimised the use of resources. National carrier Vietnam Airlines has offered a series of solutions to reduce costs |
| --- | --- | --- |
Airport expansion plan offers long-term investment appeal
VIR

| | | While the race to seek permission for new airports in the country remains controversial, Vietnam's future aviation development plan by 2050 is expected to create fresh opportunities for private investors to join. A number of proposals by cities and provinces to build an airport have been announced. On February 25, the People's Committee of the southern province of Binh Phuoc proposed to the Ministry of Transport (MoT) to have Binh Phuoc airport included in the national planning on airport development for 2021-2030, with a vision towards 2050. |
| --- | --- | --- |
Planning key to effective performance of industrial parks in Hanoi


VIR

Taiwanese electronics giant Foxconn said it would invest an additional $700 million in Vietnam and set a revenue target of $10 billion for this year.

development of these parks, he underscored.
Legal framework to be improved to promote e-commerce
Vietnamplus

| | | Legal framework to be improved to promote e-commerce. Under the Government's master plan of e-commerce development in 2021-25, one focus is to develop e-commerce to make Vietnam among the three leading countries in ASEAN in terms of e-commerce development. E-commerce expanded at 18 percent to reach 11.8 billion USD last year, making Vietnam the only country in ASEAN to see two-digit growth in e-commerce. |
| --- | --- | --- |
FOR MORE INFORMATION,CONTACT:
Dung Duong MRICS
Senior Director
T +84 286 284 7668
dung.duong@cbre.com
An Nguyen
Director
T +84 24 6288 6379
an.nguyen@cbre.com